Primary School Teachers Reap Benefits from Mathematics Workshop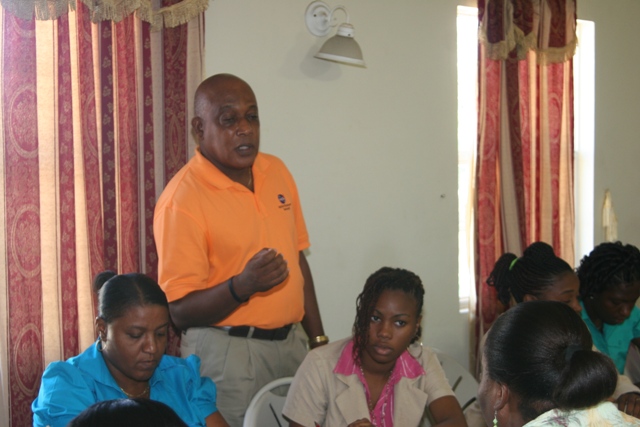 Workshop facilitator Mr. Kenneth Selkridge Sr., M.S. with Primary School teachers.
CHARLESTOWN NEVIS (September 9, 2010) —Primary school teachers on Nevis today received professional development in the form of a Mathematics Workshop at the Red Cross Building in Charlestown.
The initiative, geared specifically towards benefitting teachers of grades three to six came from the Ministry of Education through the Department of Education.
Workshop facilitator Mr. Kenneth Selkridge Sr., M.S. commended the teachers for their enthusiasm and said the one-day workshop focused specifically on problem solving and geometry.
"I'm emphasizing problem solving, working on vocabulary development. I think that Math is similar to reading. It's a Science and for students to be able to solve problems freely they have to know the vocabulary. It's very important so we're doing several activities in building students' vocabulary," Selkridge said.
Teacher at the St. Thomas' Primary School Mrs. Kimoy Pemberton-Sweeney thought the programme was essential and therefore timely. She predicted that the workshop would lead to an improvement in the teaching and learning of Mathematics.
"I am finding the workshop very interesting and I do believe the other teachers as well are finding it interesting. I do believe that after today the children will benefit greatly from what the teachers have learnt and we will see an improvement in the way the subject is being taught throughout schools," she said.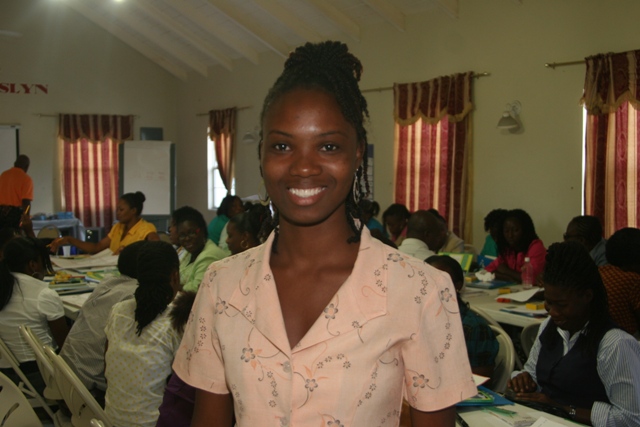 Teacher Mrs. Kimoy Pemberton-Sweeney.
The Nevisian born Selkridge also made a generous book donation to the Ministry of Education. This, he said, was in an effort to give back to the community that molded him.
"I just like to give back. This is the community that I came from. This is the community that gave me the foundation to be what I am so anything that I can give I'll give back so I brought in a lot of books: school supplies for the teachers," he said.
Selkridge is a professor at the Charles H. Emanuel National Aeronautics Space Administration [NASA] Explorer School on St. Croix. Prior to moving to the United States Virgin Islands, Selkridge attended the Combermere Primary and Charlestown Secondary Schools and the St. Kitts-Nevis Teachers Training College.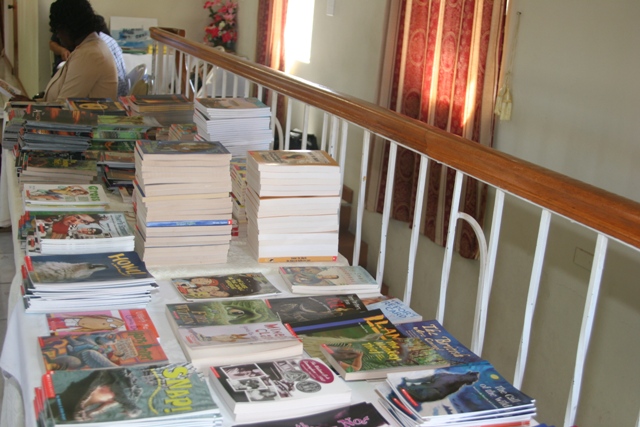 Books donated by Kenneth Selkridge.