"Family is key component to combat Gang Culture on Nevis", says Premier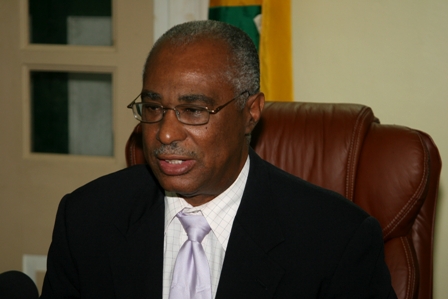 Premier of Nevis – Hon. Joseph Parry
(CHARLESTOWN, NEVIS–THURSDAY, APRIL 22, 2010) "Family matters and we as parents, mentors, teachers and adults must guide and protect our children so that the young people of our society feel the love and support that is needed." Those were the profound words of advice from Premier of Nevis, the Hon. Joseph Parry on his weekly radio talk show, In touch with the Premier on Tuesday morning.
The Premier discussed the gang activity on Nevis during his opening statements. He appealed to parents to spend more time with their children and make it their business to know who their friends are.
"It is imperative that the parents check their children's rooms and take full stock of what is going on around their children's lives…
"I am taking a strong stance on the gang issue as I strongly believe that at the end of the day, the family must play a pivotal role in combating the crime and gang violence on Nevis," he said.
Mr. Parry expressed the view that the reason why gangs thrived was because of a lack of self importance and family support. He went on to state that the gang phenomenon was something that his government continued to analyse and sought solutions for.
During the programme a concerned caller told the Premier that there had to be some serious solution to end the problem of gang activity and guns in the Federation. The caller noted that the Caribbean did not manufacture guns and asked what could be done?
"St. Kitts-Nevis continues to be impacted by the flow of arms around the Federation mainly because of our porous borders and I strongly believe, that this is the major role of how guns have made its way into our community," the caller said.
In response the Premier said that he was seriously considering the matter of border and customs control and he assured that his government would seek to find a solution to that detrimental issue.