Randy Jeffers: A Role Model, Diplomat and Fantastic Young Man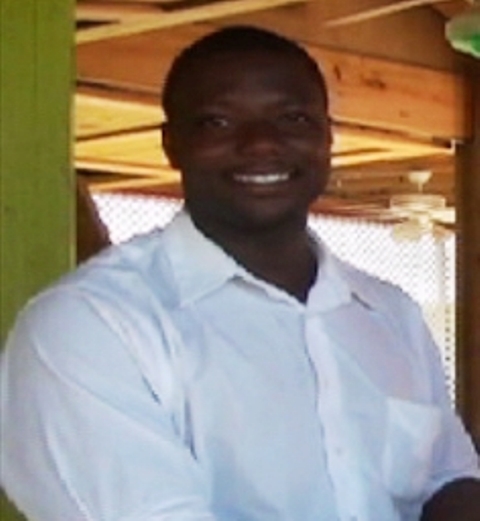 NIA-CHARLESTOWN, NEVIS (November 9TH, 2011) — Permanent Secretary in the Nevis Island Administration's Ministry of
Youth and Sports, Mr. Alsted Pemberton, together with well known tourism enthusiast, Mr. Patterson Flemming, and Artistic Manager at the Nevis Cultural Development Foundation, Ms. Dianne Hobson, have publicly lauded recent tourism and hospitality award recipient, Mr. Randy Jeffers.
Described as "a role model" by PS Pemberton, "a fantastic young man" by Mr. Flemming and "a diplomat" by Ms. Hobson, 28-year-old Jeffers was recently honoured at his establishment, on Pinney's Beach, for contribution to the tourism and hospitality sectors on Nevis.
While presenting the award on his Ministry's behalf, PS Pemberton noted that the presentation was more than just another award. It, he said, demonstrated that Mr. Jeffers had channeled the cause of being a positive role model for males on Nevis.
As the honouree's many accomplishments were highlighted, the smiling group of well wishers cheered and applauded the young entrepreneur who, according to PS Pemberton, was recognised "for the excellent work he had been doing in the society in different fields."
"On behalf of the Ministry of Social Development and indeed on behalf of the Honourable Hensley Daniel who is the Minister of Social Development, I want to commend and congratulate Randy for his accomplishment thus far as a young person, not only as a young person but as a young man," Mr. Pemberton said.
Meantime, Mr. Flemming, who had developed an appreciation for the honouree's managerial skills, said "he [Randy] deserved the accolade that he had gotten."
"I just want to say I've been with Randy now for the last three tourism seasons and I would have to say what a tremendous guy Randy is. When he has a vision or passion for something, you really can't stop him," Mr. Flemming said, adding that "his love for the tourism and hospitality industry goes beyond measure."
Similarly, while presenting his profile, Ms. Hobson spoke commendably about the honouree's nonprofit work which included contributions to Culturama on Nevis and Carnival on St. Kitts.
"As Randy's success increases, so does his eagerness to give back to society.
"He is also the architect of Sugar Mas in Nevis, which has proven to be a prominent part of Carnival in St. Kitts," Ms. Hobson said.
Mr. Jeffers is a resident of Brazier's Estate and is the owner of Lime Beach Bar