Regional Fellowship Campers visit Nevis; hosted by Deputy Governor General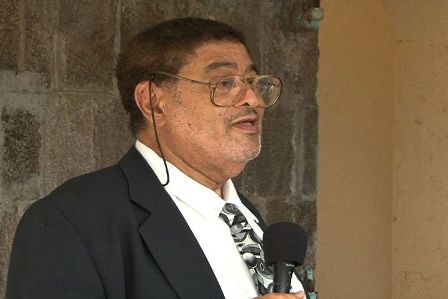 Deputy Governor General His Honour Eustace John
CHARLESTOWN NEVIS (JULY 23, 2010) – Deputy Governor General of St. Kitts and Nevis, His Honour Eustace John, welcomed a contingent from the Eastern and Southern Caribbean Boys Brigade Organization to Nevis when he hosted a reception in their honour at the Bath Hotel, Administration Building.
Mr. John's welcome was expressed on Thursday at the fellowship's one day trip to Nevis. The group has been camping in St. Kitts at the Sandy Point High School from July17th and will conclude on July25th. The bi-annual meeting included members from the countries of Antigua, St. Maarten, St. Kitts, Dominica and Trinidad and Tobago.
The Deputy Governor General encouraged the group to enjoy the scenic views of St. Kitts and Nevis and expressed hope that the purpose of their camp was a success. He urged them to not only learn the discipline of the organization but to also share it with others in the community.
"Throughout the Caribbean as you know we are really in need of role models, we have a lot of problems, crime, violence and drugs. If you are well disciplined… it isn't enough just to be disciplined, you have to go out within your peers and especially those that are going astray," he informed the members.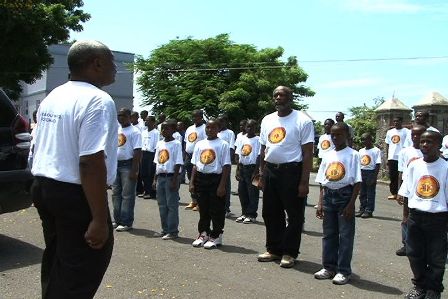 Members of the Southern Caribbean Boys Brigade Organization at Bath Hotel
Mr. John further encouraged them to be role models and enjoy the learning experience so that they could take back to their respective islands what they had learnt, to help improve the other young people of the Caribbean.
"Go out there I beg of you, your job is to bring them [other youths] into that discipline and attitude you have, learn well and be sure and steadfast," he concluded.
Commander of the Camp, Mr. Brazil Walters thank their host while other official members reflected on the organization. The Camp entailed Christian education, bible studies, lectures on drugs and drug abuse, fire drills and safety and community services.
"We are a Christian, uniform organization paramilitary, used to enforce discipline and the Christian aspect of respect, love and knowledge of Jesus Christ to develop young boys and women to make them Christian persons that they may fit into their community," said Regional Treasurer of the fellowship, Mr. Sheriff Tobass. He also acknowledged the Girls Association who accompanied the Boys Brigade.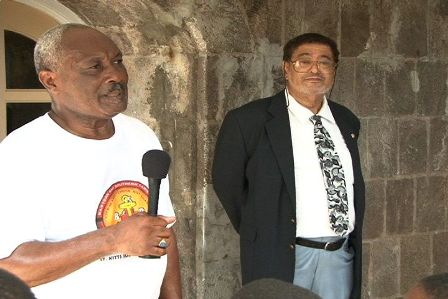 (L-R) Commander of the Camp, Mr. Brazil Walters and Deputy Governor General His Honour Eustace John
"The camp is a way of bringing them together, to advance Christ's kingdom among boys, obedience in society, reverent self-discipline and self-respect," added Captain Lionell Walter of Antigua.
The next camp will be held in Dominica.