Response to PEP launch on Nevis encouraging, says SIDF Rep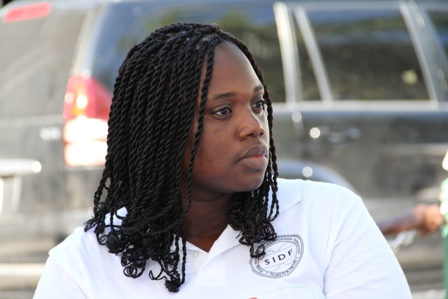 NIA CHARLESTOWN NEVIS (December 24, 2012) —
Representative for the St. Kitts Nevis Sugar Industry Diversification Foundation (SIDF) on Nevis Ms. Kerlyn Jones described the launch of the People Empowerment Program (PEP) on Nevis as encouraging. She noted that word was finally on the streets about the programme following its official launch at the Memorial Square in Charlestown on December 21, 2012.
Ms. Jones spoke to the Department of Information on December 24, the closing date for submissions from unemployed persons interested in the programme which was implemented for the enhancement of livelihoods and the improvement of productivity.
"The response was good, we got word out and people are talking about considering their options. I think a lot more people will sign up once they realise it is not politically… On Friday about 40 persons signed up and this morning I got more inquiries," she said.
Ms. Jones also applauded the response of the business community many of whom came willing to sign up for the challenge and registered to take on employees.
The employment initiative was designed by the Federal Government and launched simultaneously in St. Kitts and Nevis, was designed to create empowerment opportunities for nationals of St. Kitts and Nevis adversely affected by the global economic crisis.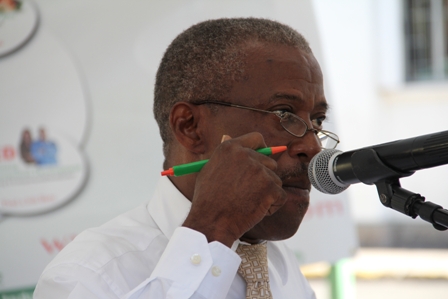 The programme is being spearheaded by the National Skills Training Programme with funds from the SIDF.
The main objects of PEP according to SIDF are to reduce the rate of unemployment and empower nationals to earn a living through the provision of skills training, opportunities for work experience and funding for development of small enterprises.
Cabinet Secretary in the Nevis Island Administration in opening remarks at the Nevis launch Mr. Asley Farrell spoke of the six components of the project which collectively targeted a wide range of the unemployed population and as he urged persons to take advantage of the opportunity.
"The first project is called EQUIP and that is Engaging Qualified Interns Project and what this seeks to do is to get six months paid job attachments for persons who have left school with qualifications be it a college degree, CAPE or CSEC and you are unemployed you can get involved in the EQUIP programme," he said.
For the second project Mr. Farrell said he liked its sound NIIP which stood for National Infrastructure Improvement Project. Under this particular project, he explained that job opportunities to enhance the environment would be provided too and for unemployed persons.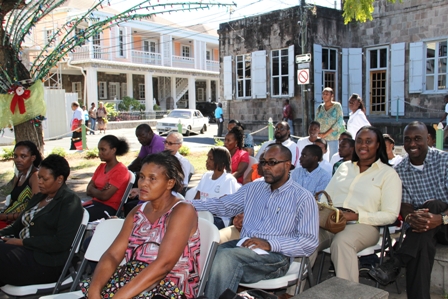 The third project he said was called Woman in Construction Trades (WICT) and under that project women would be trained in the classroom but job attachments would be made available to them, once they were interested in the construction industry.
The fourth project Mr. Farrell spoke of was called Skills Training and Entrepreneurial Development (STED) under which people would be paid for skills and entrepreneurial training to assist then if they had business ideas but did not know how to go about setting up the business.
For those who enjoyed engaging in agriculture related projects Mr. Farrell said there was the Agro-enterprise Training and Maintenance project referred to as ATM.
The final project under the programme he said was called Women in Small Enterprise (WISE).
I say it is wise to get involved in this and this one is perhaps the best so I am going to say it softly because whereas in most of the others if you getting any funding it is loan funds, this one is grant funds.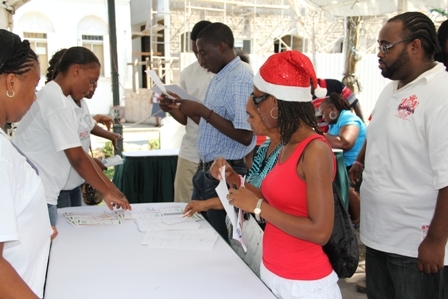 "So what they do they train you as a woman and help you set up your business and then they give you a small sum of money as a grant meaning your don't have to pay it back," he said.
Mr. Farrell described the occasion as an historic one and thanked the young persons who had attended the ceremony. He said their presence signalled their seriousness about employment and that they wanted to be in a position to contribute to the development of their country.
"Your presence here this morning says very loudly that you are not looking for handouts but rather you want to have a hand in what happens in the country, what happens to you. For this I applaud you and I want you to do more than that, I want you to applaud yourselves," he said.
The Cabinet Secretary also thanked perspective employers who were at the ceremony and the funding agency behind the PEP.
"Your presence here tells me that you are committed to being part of the solution to the problem of unemployment among the youths. You recognise that if the youths are gainfully occupied, that they have less time to get involved in deviant behaviours. You understand that if you can train these people at a young age to be disciplined and to have the correct work ethic that it would help the country, it will help all of us.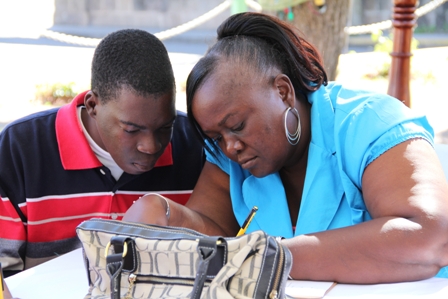 "I must also say thanks to the Sugar Industry Diversification Foundation because without them we couldn't be here this morning. Without them providing the grease, providing the money we couldn't be here this morning and I am told that so far they have already committed some EC$5million to projects," he said.
The PEP was officially launched by Premier of Nevis Hon. Joseph Parry.