Searches yield nothing but case of missing teen will remain open, Police assure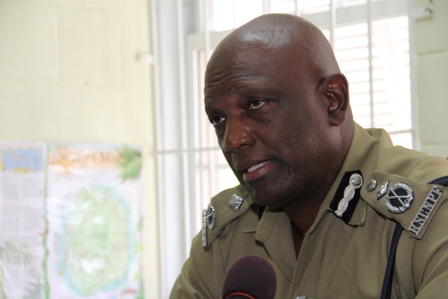 NIA CHARLESTOWN NEVIS (May 24, 2012) — Police on Nevis say that although they have made no headway in the disappearance of 17 year-old Dylon Clarke of Church Ground, the case will not be closed and they will continue to work on it indefinitely.

Assistant Commissioner of Police (ACP) and Head of the Royal St. Christopher and Nevis Police Force Nevis Division Robert Liburd, made the announcement on May 23rd, 2012 at his Charlestown Office, at the end of a two-day extensive search with two officers and a cadaver dog from the K-9 Unit of the United States Virgin Islands Police Tactical Unit.
"They have just concluded two days of intense work… they have combed the Cane Garden Area, Church Ground, New River, Fort Ashby, Pond Hill, Hamilton and other areas here in Nevis in search of Dylon and I must say that at this point in time, we haven't had any success in discovering the missing man. It is unfortunate…
"This is an open case, we have no definite time of closing, this is an ongoing case and we are not going to close until at least not just now. We are going to continue working this case, it may take up to years but we are going to continue working this case," he said.
According to the Assistant Commissioner, the "open" status of the case would remain indefinitely and was not defined by law. However, he continued to solicit assistance from the public should any more clues arise.
"Like I said this matter is an ongoing matter, we are not going to close this case and so I am appealing to the public to come forward with whatever information that they may have. We are still looking to the public to share whatever information concerning this case and any other case. We cannot do it by ourselves and so we rely on the public to share information.
"I must tell you that the information that we get is going to be held confidentially. We are not going to disclose who gave what or anything like that and just in case you have any doubt call me. My number is 662-4578," he said.
Notwithstanding, commenting on the Nevis public's assistance with the investigation so far, the Divisional Head said it was heartening and overwhelming.
"I would say that the public's response was very overwhelming. It was heartening to see how the public responded in coming out and sharing whatever information they had and joining in the search. They went all out.
"I remember the school children, they came out and they braved the weather and went in search. They not only braved the weather but some of the rough terrain and they combed those areas. I am very happy that the public was able to respond like they did and I hope that they continue with any information that they have that they would come forward and assist the police," he said.
The Assistant Commissioner also used the opportunity to thank the Commissioner of the Virgin Islands Mr. Henry White Jr. for sending his officers to the federation in particular Nevis, to assist in the search for Dylon.
"We are very happy for the assistance that we have had from the Virgin Islands Police Department. We are grateful that the officers were able to come here and work for those two days and gave some assurance and that some of the areas we have looked for Dylon are cleared. We have no indication of what may have happened but that's it at this point in time," he noted.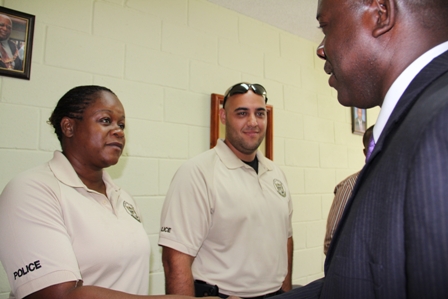 Despite lack of success in the case so far, Mr. Liburd expressed satisfaction with the work done by his men in the Church Ground Youth's disappearance.
"Yes I am satisfied with the manner in which the police have handled the case, of course I am. I had trained officers who were working on this case and they have had a number of assistance from the public. We have followed all the leads that the public has given to us. We have used all of our expertise and I am satisfied that at this point in time that we have done a good job," he said.
In response to enquiries regarding the Nevis Island Administration's assistance in the matter, the Deputy Commissioner said they had helped and in collaboration with the Federal Government also succeeded in sourcing the two visiting officers and the cadaver dog from the USVI Police Department.
Meantime, ACP Liburd said although it was expensive to source the specialised dogs finance was not the reason for the delay. He explained why a dog was brought weeks into the investigation in search of the missing youth.
"You must understand that we wanted a tracker dog in the first stage of the investigation. We would have needed a tracker dog, we couldn't source a tracker dog and the areas in which we thought we could have gotten a tracker dog, it would have to come from the United States and there were some problems with getting that dog from the mainland.
"Finance was certainly a part of the difficulty. A bill has been incurred in getting officers here and maintaining the services, but in the initial stages finance was not the real reason why the dog was not coming the real reason was sourcing the dog, getting the dog out from the US was a problem," he said.
Mr. Liburd further explained that if a tracker dog was used, it would have been able to follow a scent trail of the missing person and take investigators to places he would have walked or visited.
"That's why we wanted that dog," he said and added, "a cadaver dog deals with dead bodies. So after those days have passed, if the man is dead, then we need to get a different type of dog to see if it could uncover where a dead body is, if he is dead.
"We are exploring all the means and so since we did not find him in the first couple weeks, than we looked for the next stage to see if the man was killed, if he was buried some place hoping to uncover that," he said.
Regarding instances of misinformation that appeared in the public domain about the investigation over the past weeks, the Deputy Commissioner regarded it as unfortunate and in some cases had the potential to hurt the investigations.
"Certainly once there is misinformation naturally it is going to create problems and could really hurt the investigation but we were able to rise above that and continue our work.
"So we are very grateful for the persons who were very positive in their information and we are glad that they were able to work with us and to help the Police in whatever way they did," he said.
Pressed for information regarding the dog that was donated to the Division by the Administration some years ago, Mr. Liburd said it was a specialised dog used for drug eradication but it had since passed on.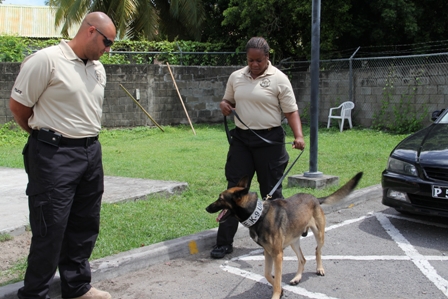 However, he noted that the Police Force had already sourced another specialised dog for tracking purposes for use throughout the Federation but appealed for the public's assistance for another.
"I must also tell you that we have just sourced a tracker dog for ourselves. I think it's going to be doing some training and should we have a similar case we should be able to use our own dog. It will be assigned to St. Kitts and Nevis.
"At the same time I would like to appeal to the public to assist us in whatever way that they can. We are certainly going to need assistance in keeping and maintaining the dog and probably we could do with another," he said.
Also present was a representative from the Nevis Island Administration Hon. Robelto Hector who thanked the USVI Police Officers for their assistance and asked them to convey the NIA's gratefulness for their cooperation and the Commissioner's Orderly Sergeant Alrick Edwards