NIA and Vatican officials to collaborate on youth development project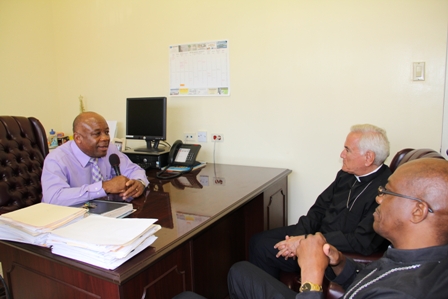 NIA CHARLESTOWN NEVIS (May 25, 2012) —
The development of youth topped discussions between Acting Premier Hon. Hensley Daniel and new Vatican Ambassador to the Federation Most Reverend Nicola Girasol when he paid a courtesy call on the Nevis Island Administration on Nevis on Wednesday May 23, 2012.
The Ambassador who is based in Trinidad and Tobago was accompanied by Bishop of St. Johns and Basseterre Most Reverend Kenneth Richards and had presented his credentials to officials in St. Kitts before his visit to Nevis. He praised the Administration's efforts to provide a stable future for the island's young people and said it was an area of mutual interest and one both parties would collaborate on.
"I was very pleased because our meeting was not only protocol but indeed we shared some common paths where we really can work in partnership because Holy seat and the Vatican of course focus a lot on the youth and of course in education. This new approach here in Nevis you are really aiming towards young people, promoting the spirit of entrepreneurship, this is something that could find us in good collaborating and in partnership.
"So indeed we are ready to strengthen our relationship because the Holy Seat and the Vatican and the Federation have a long history of diplomatic relation. This new view of focussing on really giving the young people a better future, more stable for sure, especially in a globalised economy is something which really finds us in good agreement," he said.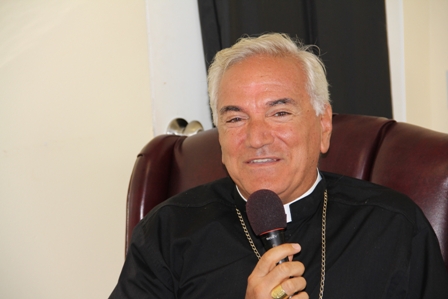 Mr. Daniel who is also the Minister responsible for Youth on Nevis explained the reason behind the Administration's decision to focus heavily on the island's youth since the Vatican's Representative had indicated the keen interest they had in the development of Caribbean youths.
"We have had some discussions with them as to how the Ambassador can connect with some of the things we want do…
"We want to develop and nurture a spirit of entrepreneurship among our young people and we are happy to partner with the Vatican and by extension the Bishop of St. Johns/Basseterre, to bring about some movement insofar as it relates to developing businesses among young people. So we are going to work together on that as a project with the Vatican and we look forward to your continued involvement with us," he said.
Meantime, in brief comments Reverend Richards who is based in Antigua also added his comments. He referred to young people as premium and the importance of creating opportunities to provide them with an avenue for self expression and the ability to contribute to the development of the nation and by extension civilisation mindful of the social and economic challenges they faced.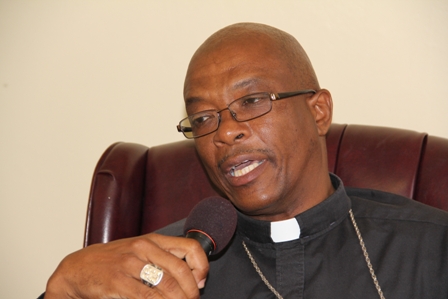 The Bishop of St. Johns/Basseterre also expressed hope that the planned project would get off the ground and bear fruit.
"I hope that which we have discussed with respect to entrepreneurship formation which we can truly collaborate in advancing that, accessing the agencies that can provide the financing and the training facility, so that we can truly help our young people to be engaged in society, become more proactive and make a more positive contribution in face of the challenges that they face with inactivity and lack of opportunities for them.
"We ask that God will truly bless this project and that we will truly work together to make it come true," he said.