Senior Citizens in the Spotlight in October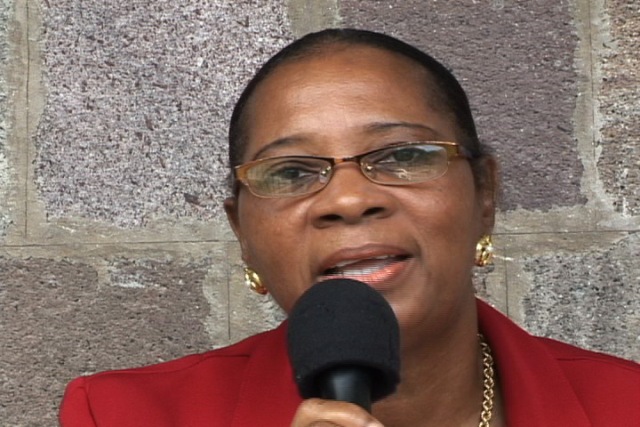 Coordinator of the Senior Citizens Division Mrs. Garcia Thompson-Hendrickson
CHARLESTOWN NEVIS (September 29, 2010) — The Senior Citizens Division of the Social Services Department remains committed to caring for and appreciating the seniors residing on Nevis. This is according to division coordinator Mrs. Garcia Thompson-Hendrickson.
Thompson-Hendrickson was a guest on this week's edition of The Social Development Outlook hosted by Mr. Curtis Morton and aired on Nevis Television [NTV] channel 8.
She assumed the position of Coordinator of the Senior Citizens Division earlier this year and applauded the efforts of Minister with responsibility for Social Development the Honourable Hensley Daniel.
"Minister Daniel is always willing and ready to come and be a part of any activity which involves the seniors. When the birthdays are approaching and we are informed we advise him and he makes himself available provided he's not off island or has another engagement," she commented.
The division hosts weekly three-hour sessions at recreational centres on the island where seniors participate in arts and crafts as well as several other activities. The seniors, as highlighted on the weekly show, also use the opportunity to teach their peers.
"We learn craft. We have socials. We celebrate birthdays and we do devotions and generally we have a good time and they are treated to a snack every time we meet," Hendrickson said.
The senior citizens division also facilitates the Hot Meals programme that caters to approximately 50 of the island's seniors.
"On Mondays, Wednesdays and Fridays we cater to the St. James and the St. Georges area. On Tuesdays, Thursdays and Fridays we cater to St. Thomas', St. Paul's and St. Johns and on Wednesdays we cater islandwide: everybody on the island who is on the list receives a hot meal.
"A lot of the seniors have families and caregivers and we try to work along with them so that the days that we can't provide the meals for them that they will fill those days and make sure that they have something proper to eat.
"We try, as best we could, but with the best of intentions we can't do everything," Hendrickson said.
Meanwhile, the [senior citizens] division will be observing International Month of Older Persons in October under the theme "Older Persons and the achievement of Millennium Development Goals" with a host of activities including a programme titled "Seniors in the Spotlight" on October 1, a church service on October 3 and a trip to St. Kitts on October 14.