SKN Ambassador to R.O.C. (Taiwan) pays courtesy call on Premier Brantley, Sen. Nisbett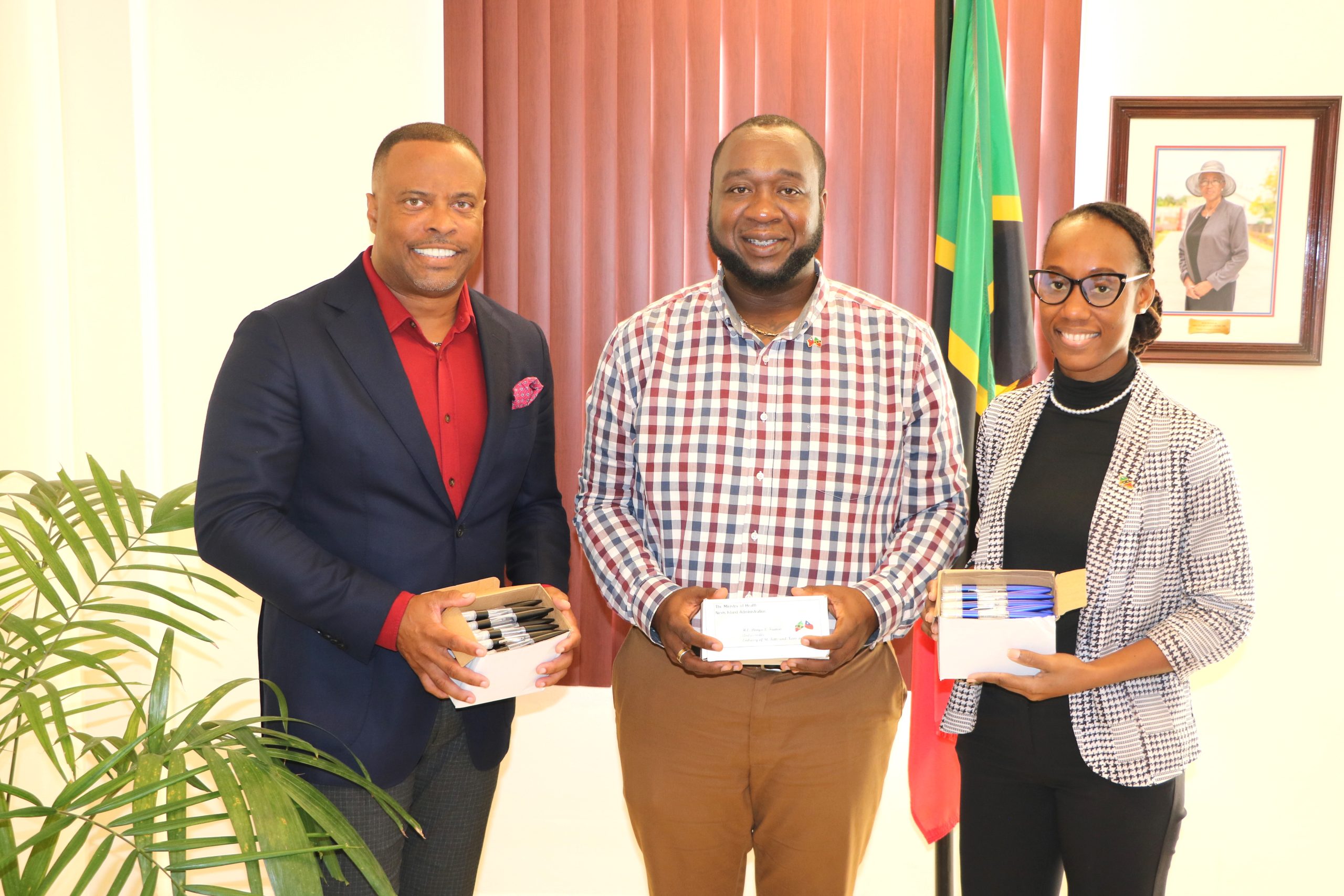 NIA CHARLESTOWN NEVIS (January 06, 2023)- His Excellency Donya Francis, St. Kitts and Nevis Ambassador to the Republic of China (Taiwan) paid a courtesy call on Hon. Mark Brantley, Premier of Nevis, and Senator Hon. Jahnel Nisbett, Minister of Health in the Nevis Island Administration (NIA) on Friday, January 06, 2023 at the Premier's Office in Pinney's Estate, Nevis.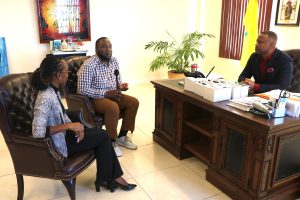 This was H.E. Francis' first official visit to Nevis since his appointment to the post. The Ambassador brought with him a donation of specialized multipurpose pens from one of the Embassy's partners in Taiwan that will be distributed to employees in the Ministry of Health. The pens are specially made with a compartment for sanitizer with a capped spray nozzle at the top.
"On behalf of the St. Kitts and Nevis Embassy in Taiwan I would like to donate these pens to the Ministry of Health on Nevis. These pens are multipurpose. You can add rubbing alcohol or any alcohol-based hand sanitizer to these pens and also of course write with these pens, so you write and you clean. As a global health and development major I thought about the health professionals in St. Kitts and Nevis and said let me donate these pens so that we can reduce the instances of health institution-based infections…especially during this season when the flu and other illnesses are appearing, and Covid-19 is still lingering in St. Kitts and Nevis," he said.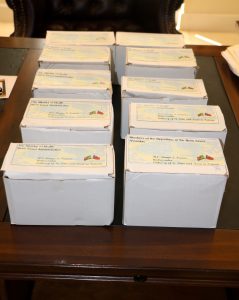 Premier Brantley welcomed Ambassador Francis to the island and thanked him for the generous gift which he said will surely assist the Ministry of Health in its work in the Nevis Island Administration.
"[Your] Excellency let me use this opportunity to congratulate you, I know you are a young man from St. Pauls in St. Kitts and I'm delighted that you have taken up this challenge of being our Ambassador to Taipei. I certainly look forward to more good news and good things coming out of this longstanding relationship that we've enjoyed with the Government and people of Taiwan. So thank you again, and welcome home."
Senator Nisbett expressed her pleasure at having the opportunity to meet with Ambassador Francis, also registering her gratitude for the donation. She wished him well in his tenure as a foreign diplomat.