SKN Foreign Affairs Minister Brantley salutes Cuba on CARICOM-Cuba Day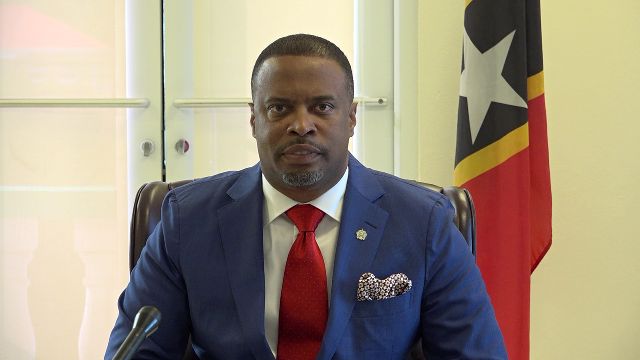 CHARLESTOWN NEVIS (December 08, 2018) — The following is an address by Hon. Mark Brantley, Minister of Foreign Affairs and Aviation in St. Kitts and Nevis on the observance of CARICOM-Cuba Day on December 08, 2018.
The Government and people of St. Kitts and Nevis take great pride in joining with the Member States of the Caribbean Community (CARICOM), in the observance of the 16th anniversary of CARICOM-CUBA Day celebrated on December 8th, 2018.
As we reflect on Cuba's increasing relationship with the independent states of CARICOM, we are reminded of the commonalities that exist between the Cuban people and the people of the CARICOM region.
This relationship has allowed us as a Caribbean people, to collaborate at the bilateral and multilateral level to advance our respective developmental agendas, while at the same time fulfil the sustainable development goals as agreed at the United Nations.
Cuba has continued to be a great 'amigo' and partner to CARICOM, especially in the area of health and human capacity development.
Cuba continues to train scores of Caribbean nationals principally in the area of medicine, as well as other areas which will inevitably contribute to the development of stronger communities throughout our region.
Cuban doctors are also an asset to the Health sectors of our Caribbean countries, filling the gaps in health care, and providing the much needed specialist care to our vulnerable populations.
Currently, there are 25 nationals undertaking tertiary studies in Cuba, and to date, a total of some 120 nationals have graduated from Cuban universities.
Cuba, has always been one of the first countries to respond to the needs of our Caribbean countries in terms of disaster and for this, and the many additional areas where we have strengthened cooperation, the Government and people of Cuba must be lauded for their invaluable service to our region.
CARICOM, remains at the forefront of those who continue to reiterate the clarion call for the normalisation of relations between the United States of America and Cuba, and as is customary St. Kitts and Nevis has maintained its annual support for Resolution 72/4 of the United Nations General Assembly entitled, "Necessity of ending the outdated economic, commercial and financial embargo imposed by the United States against Cuba."
As we continue to celebrate and embrace this mutually beneficial relationship of cooperation and solidarity between CARICOM and Cuba, we are confident that our relationship will continue to grow by leaps and bounds, and I therefore extend every good wish for the peace and prosperity of the Government and people of Cuba.
Viva Cuba! Viva CARICOM! Long live CARICOM-Cuba relations!