Kind-hearted Craddock Road resident lights up Charlestown heralding the start of Christmas season on Nevis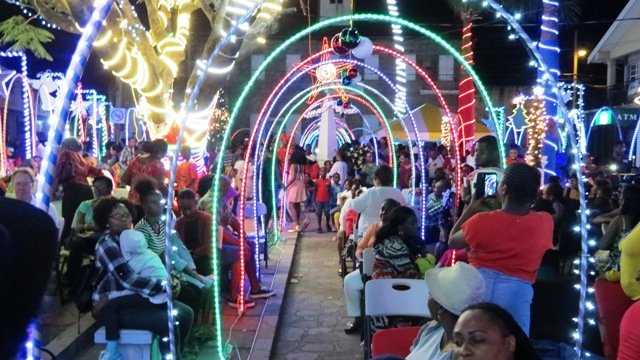 NIA CHARLESTOWN NEVIS (December 07, 2018) — Mrs. Zaiditor Olive Jeffers of Craddock Road was honoured at the annual Christmas Tree Lighting Ceremony in Charlestown on December 05, 2018, for her contribution to the community. The tree lighting event is the first of several which will be repeated throughout the island on a smaller scale over the Christmas season.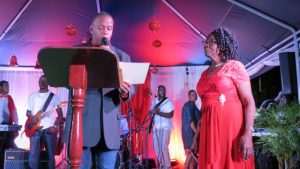 Mrs. Jeffers served as patron for the event, hosted by the Ministry of Social Development, through the Department of Community Development, flipped the switch to herald in the Christmas season on the island, moments after she was presented with a certificate of appreciation and a gift basket by Hon. Eric Evelyn, Minister of Social Development on Nevis.
In a profile, delivered by Mr. Recardoe Rodriquez, Youth Junior Minister of Tourism, Mrs. Jeffers, owner of Happy Kids Nursery, was described as one who cares for children and the needy in the Charlestown area throughout her life.
"She looks out for everyone in the community, whether they need advice, food or shelter…Mrs. Jeffers was heavily involved in community service and attended community meetings regularly. She also assisted with the Craddock Road Christmas tree lighting over the years. Mrs. Jeffers is an avid churchgoer and enjoys teaching the word of God…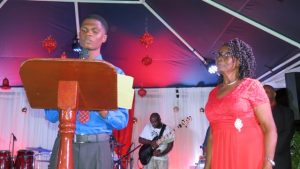 "In those days, Mrs. Jeffers remembers working with a group called the Christian Children's Fund, a group that was dedicated to helping children in need. Mrs. Jeffers was the representative for the Charlestown Primary School. They assisted children by providing lunch and money to under- privileged children within the community," he said.
Her love for children and kind heart led Mrs. Jeffers to begin a nursery for neighbourhood children, which has led to an established facility on Craddock Road.
According to the profile, one day her neighbour who worked at the Four Seasons Resort asked her to care for her daughter while she was away at work but when other parents saw her babysitting they also asked for her services.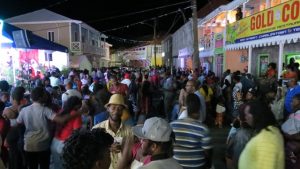 "She was babysitting children in her home upstairs, while her downstairs was rented out as an apartment. When the tenants left, instead of finding new tenants, Mrs. Jeffers decided to turn the apartment into a nursery. She went to St. Kitts and received weeks of training and has since dedicated 24 years of her life to caring for infants.
"She has nursed so many young children over the years, some of whom have previously graduated from the Charlestown Secondary School. She doesn't turn her back on anyone, including the less fortunate who she assisted in any way she can. She didn't want to see any child go without food because of their family's financial situation. In one case, she prepared lunch every day for a child whose mother could not afford it," Mr. Rodriquez said.
Her personal motto is "Do what you can, when you can, while you can, because life is fleeting" which continues to impress on those she impacts citing that they never know the future and should do good at all times possible.