SKN Foreign Minister kicks off  UN General Assembly high-level week in high gear at COFCOR Session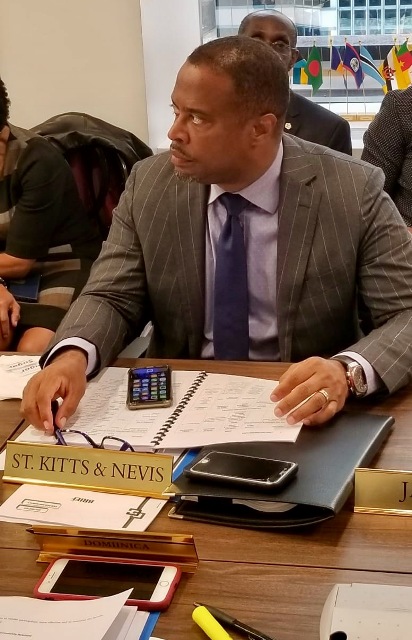 September 26, 2018 (Ministry of Foreign Affairs) – Hon. Mark Brantley, Foreign Minister began his rigorous schedule with the 11th Special Session of the Caribbean Community (CARICOM) Council for Foreign and Community Relations (COFCOR) on September 24th 2018 in New York.  The regional cohort of Foreign Ministers deliberated on the advancement of common foreign policy positions.
Ministers discussed pressing matters inter alia, United Nations Security Council Reform, the implications for CARICOM of the United Nations Development System, the development of national financing frameworks under the scope of a vigorous implementation of the SAMOA Pathway, the phenomenon of de-risking and climate change.
Of specific importance was the discussion on health-related issues, in particular, the fight against tuberculosis and the prevention and control of non-communicable diseases, both of which the United Nations General Assembly will discuss this week.
As St. Kitts and Nevis leads the CARICOM Quasi Government on health issues, the Foreign Minister briefed the CARICOM Caucus of Foreign Ministers on the alarming statistics of non-communicable diseases in the Caribbean.
The Foreign Ministers also discussed migration, ahead of the Inter-Governmental Conference to adopt the Global Compact on Safe Orderly and Regular Migration scheduled for Marrakesh in December 2018.
In line with its national and regional priorities, the Council decided to intensify its advocacy for reconsideration of the criteria for development financing for middle income countries such as those in our region that continue to  face with substantial economic and environmental vulnerability.
Further, the Ministers have agreed to ensure effective advocacy, in line with the CARICOM Declaration on Climate Change, and the Paris Agreement, to heighten awareness about the deleterious impacts of climate change.
The COFCOR is expected to engage third countries including Japan, UK, Canada and USA.