SKN top diplomat meets with counterpart in Republic of China (Taiwan)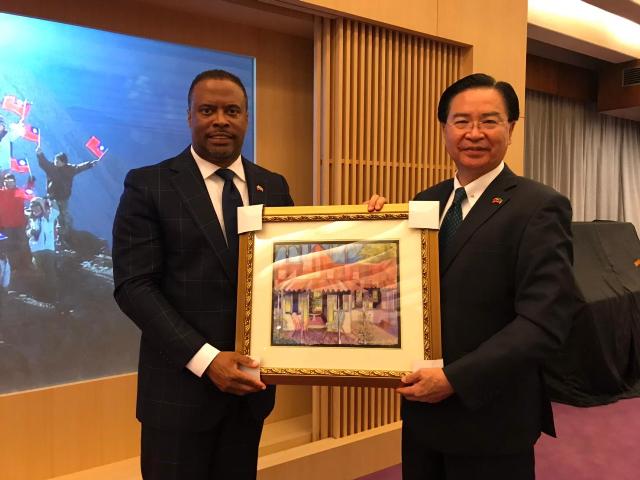 SKN FOREIGN AFFAIRS (May 09, 2019) — Continuing his robust diplomatic engagements to strengthen even further the close bond of friendship between St. Kitts and Nevis and the Republic of China (Taiwan), Hon. Mark Brantley Minister of Foreign Affairs and Aviation, and Premier of Nevis had a very warm and cordial meeting with his Taiwanese counterpart, His Excellency Dr. Jaushieh Joseph Wu at the Ministry of Foreign Affairs early today.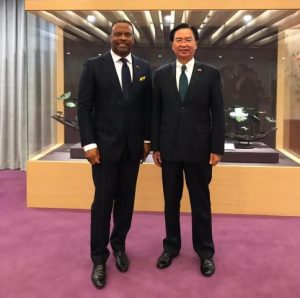 Minister Brantley reiterated the Federation's commitment to continuing the advocacy for Taiwan's participation as a valued member of the international community.
He stated that Taiwan possesses a wide array of expertise that qualifies it as a country capable of making significant contributions worldwide and that Taiwan's voice must not be silenced.
Minister Brantley highlighted as an example Taiwan's excellent work in Africa with respect to the Ebola crisis.
While Mr. Brantley had the ear of his Taiwanese colleague, he mentioned some important areas for further cooperation including increasing the number of scholarships for students in St. Kitts and Nevis, infrastructural development and economic opportunities for small and medium-sized enterprises (SMEs).
In his response, Foreign Minister Wu expressed deep appreciation, not only of the Government but also the people of Taiwan for the staunch support of St. Kitts and Nevis globally, and explained Taiwan's commitment to continue to lend support towards the Federation's social and economic development.
Minister Brantley shared his excitement about the imminent visit of Minister Wu to St. Kitts and Nevis and expressed his readiness to receive him and his delegation.
Mr. Brantley was accompanied by members of his delegation – the Hon. Spencer Brand, Minister of Communications, Public Works et al in the Nevis Island Administration, Ms. Kaye Bass and Mr. Wakely Daniel, Permanent Secretaries in the Ministry of Foreign Affairs and Aviation and the Premier's Ministry, respectively and Her Excellency Ms. Jasmine Huggins, Ambassador of St. Kitts and Nevis to the Republic of China (Taiwan).