St. Kitts- Nevis Attorney General meets with Youths of St. James' Parish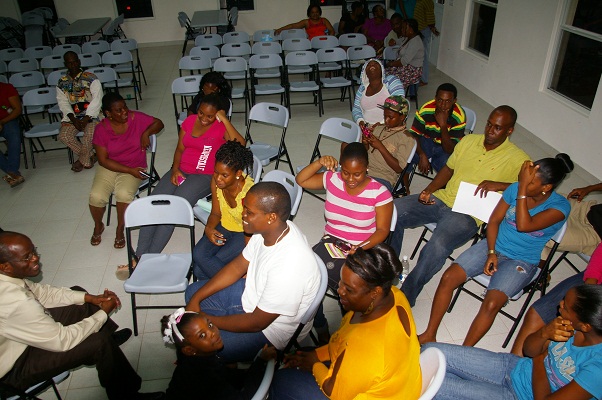 Charlestown, Nevis (Thursday, November 22, 2012)–
Attorney General and Minister of Justice of St. Kitts- Nevis, the Hon. Patrice Nisbett met with the young people of St. James' Parish on Tuesday (Nov. 20) to interact with them and discuss various issues of mutual interest.
"The young people are our future, and I believe it is very important that we understand their needs, so that we as a community and a government can implement programs to fulfill those needs," said Hon.Nisbett.
The meeting began with a focus on the topic of education, and Hon. Nisbett noted the role that the Nevis Reformation Party (NRP)-led Nevis Island Administration has played in promoting university education among young Nevisians. Nisbett said the NIA always impressed on the youth the importance of education, encouraged them to pursue tertiary education and given financial assistance to those who qualify.
Mr. Nisbett also noted the Administration's policy of allowing all persons who had previously been denied regular public school education. He said the present NRP-led Administration has sanctioned teenaged mothers returning to school, so they could continue their education, and the government has also allowed Rastafarian children to attend school without head-wear.
Youth entrepreneurship was also discussed during the meeting. The Hon. Nisbettt encouraged young people to come forth and bring their business ideas. He also commented on the opportunities that are available for young people to receive financial aid and skills through such agencies as Creativity for Empowerment and Business Opportunity (CEBO) and the Small Enterprise Development Unit (SEDU).
Other issues discussed were career choices, renewable energy and development for the St. James community.
The Hon. Patrice Nisbett has long been community-minded and youth-oriented. In his youth, he was a member of the Combermere Methodist Church Boys Brigade and the Nevis Youth Council, while in his adult life he served as the President of the Nevis Cricket Association.