St. Kitts-Nevis Foreign Affairs Minister salutes Commonwealth Secretary General-elect H.E. Baroness Scotland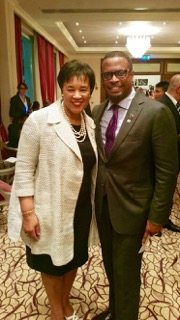 NIA CHARLESTOWN NEVIS (November 28, 2015) — The following is press release from the Ministry of Foreign Affairs issued on November 28th, 2015.
St. Kitts-Nevis Foreign Affairs Minister Hon. Mark Brantley has expressed congratulations to Commonwealth Secretary General-elect H.E. Patricia Scotland PC, QC, Baroness Scotland of Asthal.
Baroness Scotland, a native of Dominica, became the first female to be elected to the auspicious post, obtaining the majority support of the 53-member Commonwealth during yesterday's [November 27] election.
St. Kitts-Nevis' Chief Diplomat, a fellow jurist, lauded the elevation of Baroness Scotland as a major victory for Dominica, the OECS and the wider Caribbean region.
"This woman of the Caribbean is an inspiration to all of us. To have been born a child in Dominica with an Antiguan father and a Dominican mother, taken to the UK by her parents as an immigrant girl of colour, and been able to scale such dizzying heights in Britain, becoming their first black and first female Attorney General and youngest female Queens Counsel in that country's history, says to us all that she embodies the character, intellectual capacity and fortitude which has long defined the Caribbean people."
The crowning achievement will undoubtedly be etched into the annals of Dominican and Caribbean history, serving as an aspirational catalyst for young girls in the Diaspora.
"To be elevated to the first female Secretary General of the Commonwealth tells each and every young child in the Caribbean and particularly young girls that we are limited only by the size of our ambitions" said Brantley.
Foreign Minister Brantley, who is attending the CHOGM 2015 Malta summit, views Baroness Scotland's ascension as being pivotal for the region, whilst creating an opportunity for a new paradigm for all the nations of the Commonwealth. He offered congratulations also to the Dominican delegation to the CHOGM.
"The future of our region looks bright," he said
"Baroness Scotland is our Caribbean woman and she must now set about the task of reforming and rejuvenating the Commonwealth and the 53 Nations and over 2 billion people it represents. Having witnessed first hand the diplomacy exhibited by President Savarin, Foreign Minister Baron and the Dominican team that supported Baroness Scotland's historic bid, I also express sincere congratulations to them on arriving at this juncture."
Despite Antigua and Barbuda's nominee Sir Ronald Saunders failing in his own spirited bid for Secretary General, Foreign Minister Brantley commended his effort and that of his Prime Minister Hon. Gaston Browne.
H.E. Baroness Scotland will officially assume the post of Commonwealth Secretary General in April 2016.
END