St. Thomas' Primary School completes youth workshops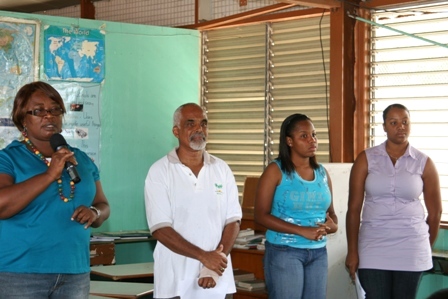 The St. Thomas' Primary School (STPS) on Friday July 25, 2008, facilitated the closing ceremony of two workshops which involved the island's youth.  The two-week Virtues Education Workshop was coordinated by Mr. Lloyd Williams and his team for the students of Grades five and six while the Summer Football Programme for the island's boys, was coordinated by Mr. Emmanuel Richards.
 
Principal of the STPS Mrs. Earlene Maynard highlighted that she learned about the Virtues Education Workshop two years ago when she visited the Curriculum Development Unit in St. Kitts and thought it would be beneficial to her students.
 
Mrs. Maynard spoke of the benefits the programme created.
 
"I believe as a result of this programme, our children have learnt real good virtues that they can 
Children at Virtues Education Workshop
build on, virtues such as assertiveness, caring, cleanliness, confidence, courage – those pillars that help to make strong young men and women within our community," she said.
 
She also offered congratulatory words to the facilitators.
 
"I want to congratulate Mr. Williams for his dedication.  I also want to congratulate the trainees because he went a step further not just holding all of it for himself but extending his knowledge to young persons within our community – Chrislin Jeffers, Jacintha Lawrence and Marika Smithen also showed a great interest in disseminating the information to our children.
 
"I congratulate the young people because often times we hear more negatives about our young people than the positives and these young people, they came forward and were willing to 
Coordinator of the Emmanuel Richards Football Summer Camp 2008 Mr. Emmanuel Richards
show that they can step out as role models and help the younger ones within our community," Mrs. Maynard said.
 
Mr. Williams also spoke at the ceremony.
 
"I would like to thank Mrs. Maynard for her commitment to education, for her understanding and persistence in the vision of what she wants for her youth in the Federation in particular in Nevis," he said. 
 
One of the trainers of the Virtues Education Workshop, Ms. Jacintha Lawrence outlined the objectives of the workshop.
 
"The mission of the Virtues Project is to provide empowering strategies and inspire the practice of virtues in everyday life and some of the objectives that were incorporated into the project are to increase the awareness of and to practice virtues; 
Footballers at camp
to be engaged in physical activity; to encourage verbal and artistic self expression; to enhance comprehension and social awareness; to carry out an act of service for humanity and to discover something new about Nevis or the world," she said.
 
Meantime, Coordinator of the Summer Football Programme dubbed "Emmanuel Richards Summer Camp 2008" Mr. Emmanuel Richards, gave an insight into his programme.
 
"This programme is for the development for the kids for them to learn discipline&It has helped them to respect the referees, the players, other players as well, other referees, for other games or for any sport that you are dealing with and in life, to help these children to respect one another on the field and off the field because what you are trying to do is to bring back that love that we [are] presently loosing today," he said.