Starkey Hearing Foundation fits 32 patients on Nevis with hearing aids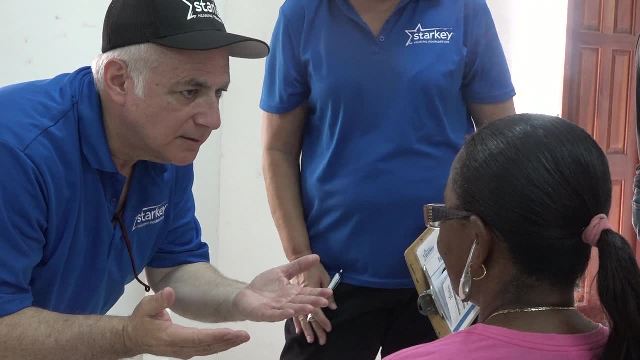 NIA CHARLESTOWN NEVIS (JUNE 12, 2017) — A free hearing mission hosted by the Starkey Hearing Foundation in collaboration with the Ministry of Health on Nevis, is being described by Nicole Slack-Liburd, Permanent Secretary in the Ministry of Health as an overwhelming success.
During the one-day event which was held at the Anglican Church Hall on June 08, 2017, out of 56 patients examined by a team of specialists, 32 were fitted hearing devices, including a baby less than one year old.
Slack-Liburd told the Department of Information on June 12, 2017, that the Ministry has worked with the foundation before but was the first mass outreach activity.
She said the ministry is pleased with the outcome and spoke of its continued commitment to the provision of quality health care on Nevis.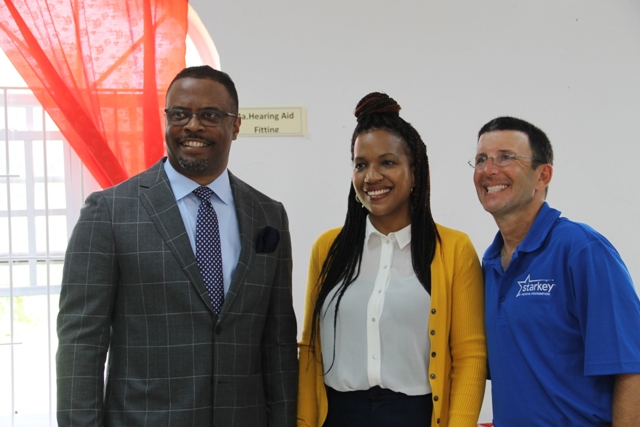 "The Ministry of Health is pleased with the results in which many persons were fitted with hearing aids. Some others also had other procedures done such as clearing wax build up.
"The Ministry is committed to investing in services for the hearing impaired. Our Vision programme continues to grow and expand and it is our goal to do the same for our hearing programme to ensure that persons have access to these critical services," she said.
The pre screenings were conducted previously at the Brown Hill Community Health centre and the Cecily Brown Integrated School. At that stage persons were identified as hearing impaired.
Kirk Richards, the foundation's International Development Director for the Caribbean explained during the visit to Nevis, that the group founded by William Austin has been providing the gift of hearing around the Caribbean as well as Latin America, Africa and Asia Pacific since its inception in 1984.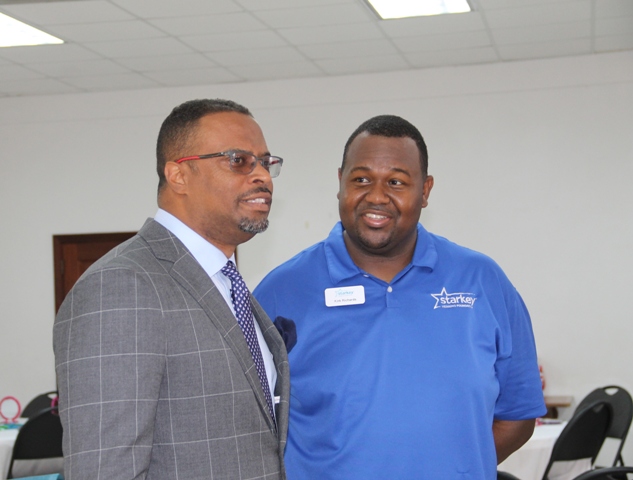 He noted that as they continue to develop the programme, they are also creating a community-based health programme in collaboration with the various ministries of health. They have been able to set up care centres for follow-up care for patients who have been fitted with hearing aids.
Ahead of the visit to Nevis, they have conducted clinics in St. Lucia, Jamaica, Dominica, St. Kitts with their next stop in Guyana.
Meantime, Hon. Mark Brantley Deputy Premier of Nevis and Minister of Health registered his gratitude to the foundation for their invaluable service.
He said the Nevis Island Administration through the Ministry of Health is seeking a deeper partnership with the Starkey Hearing Foundation for the ultimate benefit of the people of Nevis.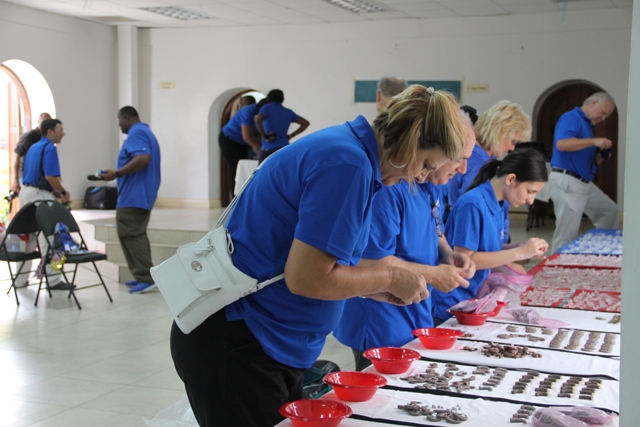 "We have quite a robust eye care programme and we are working now with Starkey to get an equally robust ear care programme and hearing programme to address the needs of our young and our old alike, all of our population. So that for us is very important.
I would like to thank them from the bottom of our heart…we are very grateful that Starkey Foundation has partnered with us in this very substantial way," he said.