State funeral for Sir Cuthbert; National Day of Mourning and half-holiday declared in his honour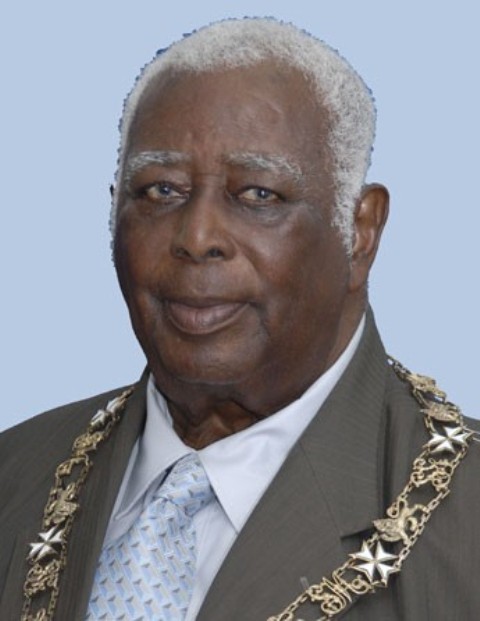 NIA CHARLESTOWN NEVIS (APRIL 03, 2017) – Former Governor-General of St. Kitts and Nevis Sir Cuthbert Montraville Sebastian GCMG, OBE, MD, ED, KSTJ, will be accorded a state funeral with full military honours on Monday April 10, 2017, at the St. George's Anglican Church on Cayon Street in Basseterre from 1:30 p.m. Interment will follow at the Springfield Cemetery.
Monday, April 10, has been declared a National Day of Mourning by the Federal Government and Governor-General His Excellency Sir Tapley Seaton has proclaimed a national half-holiday for the public and private sectors, in honour of the life and contribution of the late Sir Cuthbert Sebastian to the nation. Sir Cuthbert who was 95 at the time of his passing, served as Governor General from 1996 to 2013.
The body of Sir Cuthbert will lie in state at Government House from 8:30.a.m. to 12:00 p.m. for public viewing. All flags on government buildings will be flown at half-staff on the same day.
The Book of Condolences will be opened at Government Headquarters for public signing on Friday April 07 from 8:00 a.m. to 4:00 p.m. and on Monday, April 10, from 8:00 a.m. to 12:00 p.m.
Sir Cuthbert who passed away on March 25, 2017, served in St. Kitts, Nevis and Anguilla in a number of capacities including pupil teacher, learner/dispenser, chemist and druggist, laboratory technician, senior dispenser, medical superintendent and obstetrician/gynaecologist. He was Chief Medical Officer of St. Kitts and Nevis from 1980 to 1983. He pursued training at the Dundee Royal Infirmary, Scotland, in obstetrics and gynaecology from 1962 to 1966.