Stoney Grove Club names Morrell Slybo Newton Bus Stop after Nevis sports icon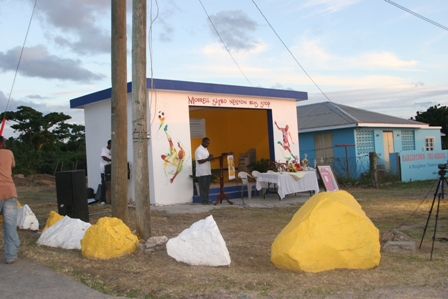 The newly named Morrell Slybo Newton Bus Stop adjoins the Charlestown Preschool in Stoney Grove
CHARLESTOWN NEVIS (December 07, 2010) — The Nevis Island Administration was commended by the Stoney Grove Community, Sports and Social Club on Saturday, at a moving naming ceremony in honour of noted footballer Morrell Slybo Newton of Bath Village who passed away some years ago.
President of the group's interim committee Mr. Emanuel Jeffers in his remarks singled out Parliamentary Representative Hon. Robelto Hector for his work in the community and requested his continued support and Minister of Sport, Social Development and Culture Hon. Hensley Daniel and staff for their collaborative partnership.
Mr. Jeffers used the occasion to underscore the importance of a community to raise a child. He said though simplistic, the expression "it takes a community to raise a child" was routed in the moral and philosophical meaning and beliefs of the forefathers and mothers of Stoney Grove.
"I am only to mention Aunty Moum and Mama Miss who epitomised the cavernous meaning of this phrase. I dare say that time has moved on and as such it is my view that this phrase must be expanded from its subcutaneous application to a subterranean level in its meaning and relevance.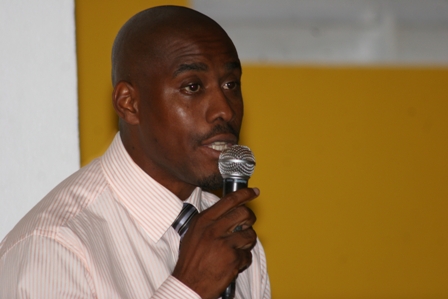 President of the Stoney Grove Community, Sports and Social Club Mr. Emanuel Jeffers
"Hence this revised aphorism as adopted by the Stoney Grove Community Sports and Social Club will now read 'it takes love, direction and care of a community to raise a child, positively challenge and direct its youth and uphold the virtues of honouring and caring for its elderly'," he said.
Mr. Jeffers noted that his ardent belief was always that a caring society fostered a strong community and he challenged members of the community to rediscover the unselfish nature that once prevailed in the village of Stoney Grove.
He also thanked Veronica "Evans" Newton the mother of the honouree for her strength to bear, nurture and raise a hero and for the unconditional love and dedication she had shown that allowed her son to shine forever in the thoughts and memories of the community.
Meantime, Hon. Hector who was present at the ceremony in remarks said he was pleased to be associated with the construction of the bus stop named posthumously after Mr. Newton and thanked LEFCO Equipment Rental and Construction Co. Ltd. for its prompt response to his request for assistance with construction of the bus stand.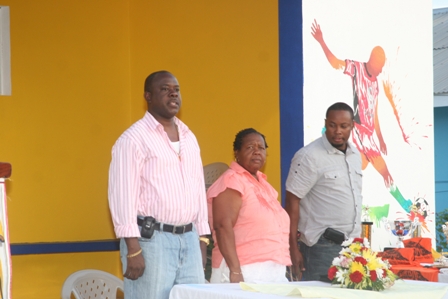 (l-R) Parliamentary Representative Hon Robelto Hector, Mother of Morrell Slybo Newton Ms. Victoria "Evans" Arthurton and LEFCO representative Mr. Carl Liburd
He said it was fitting for the island's icons in sports and other areas to be recognised for their accomplishments and cleared concerns as to why the sportsman's name was assigned to a bust stand.
"I know the question might be raised why a bus stop? And I want to say this afternoon that we are to think of the recognition, we are to think of the multipurpose and we are to realise that it is that moment for us to recognise someone who was a true accomplished sportsman among our midst.
"I want to say to you from the words of his daughter that he would have played almost every sport and when you would have done that and you would have excelled, that is indeed the individual who you can say is an accomplished sports player," he said.
Mr. Hector said no one knew why "Slybo" was taken from the community at a young age but for the part he played he ought to be remembered and lauded the efforts to do so by the community.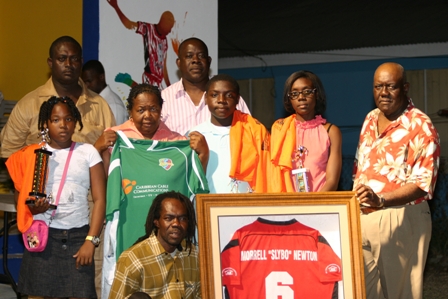 Area representative Hon. Robelto Hector (back row second from left) shares a moment with the honouree's family (second row L-R) daughter Najaunai, Mother Ms. Victoris "Evans" Arthurton, son Shakir, daughter Felicia, father Mr. Morel Claxton and (Front) brother Junior Newton while showing off the various trophies won by Slybo's teams in Nevis and St. Kitts and the jerseys he wore. They were presented to the family members during the naming ceremony in his honour. Also present is Manager of the Brand Stoney Grove Slybo Strikers football team (back row left) Mr. Gary Claxton
The Parliamentary Representative said the bus stand was erected as a result of a promise he had made and he was pleased to say it was a promise kept.
"This is something that today I am happy that I could deliver and happy also to make sure that this spot would remember one of our sports icons," he said.
The event was dotted with various presentations from children of the late Morrell "Slybo" Newton. During the delivery of a poem his daughter Felicia was moved to tears while his son Shakir visibly emotional reminisced on a good father he missed.
"I am here to talk about how it was with my father. He was a good one, he taught me as much as he could while he was alive. I wish I could be like him when I grow up. I am still trying, I still have more things to learn but I have to do better in school first because me mother nah let me go nowhere if me nah do me schoolwork.
"My father was very good he always tried to tell me to do the right things. My mother is trying to instil that too. I am still trying to get over my father being gone. I wish he could still be here to teach me more things but he is not here," he said.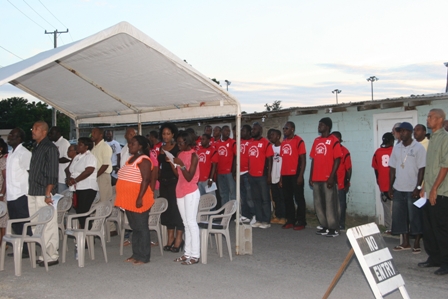 A section of those present at the naming ceremony
In response to the posthumous honour bestowed on her son Mrs. Newton thanked the Stoney Grove Community, Sports and Social Club, the NIA Hon. Robelto Hector and all those responsible for the gesture.
Other remarks came from the LEFCO representative Mr. Carl Liburd, Sponsor of the Brands Slybo Stoney Grove Strickers football team Mr. Spencer Brand. A profile on the honouree was delivered by Mr. Malcolm Ramsey. Chairman for the occasion was Mr. Kurvin Wallace vice president of the Stoney Grove Community, Sports and Social Club