Students, seniors experience Ministry of Tourism's Nevisian Heritage Life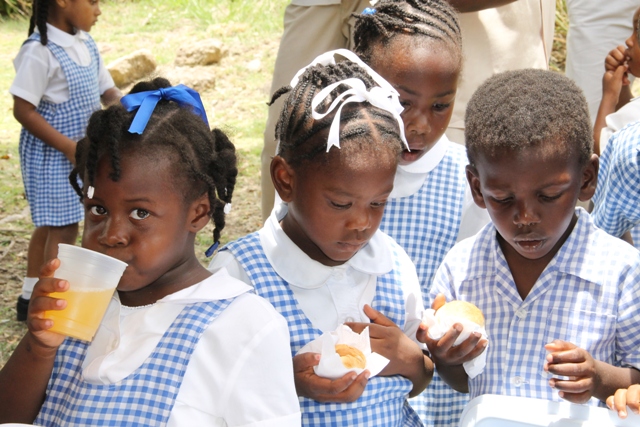 NIA CHARLESTOWN NEVIS (May 06, 2016) — Hot bread with butter baked in a stone oven and cornmeal and okra with steamed fish cooked on a coal pot, will likely be the most memorable happening for students and seniors who attended the Ministry of Tourism's Nevisian Heritage Life, at the Nevisian Heritage Village in Zion on May 05, 2016.
Coordinator of the event Nicole Liburd told the Department of Information that the level of participation by students and seniors exceeded the ministry's expectation.
"The children are eager. A lot of them did not know about the stone oven and the fact that we brought some artisans here, they were able to see some of the shells, the coconut, the mahogany, some of the things that we make local items from.
"So I'm really glad that we were able to share that because that is what tourism awareness is all about," she said.
The event which also incorporated the work of local artisans and food processors formed part of the Ministry's Exposition Nevis. It is designed to continue to showcase life on Nevis yesteryear.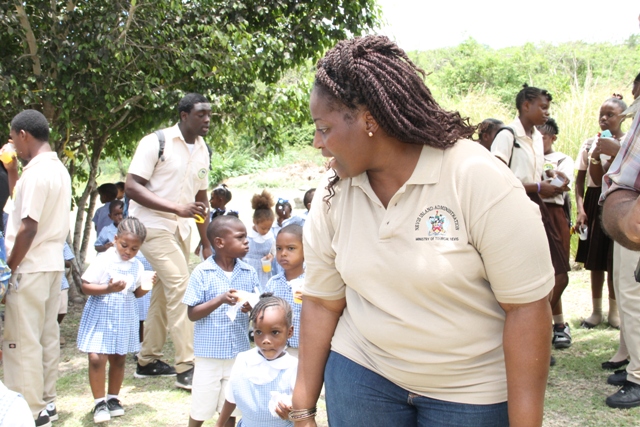 According to Liburd, the team who put together the event also used the opportunity to show off the recent renovations done to the houses, including the indigenous, ones and to remind the public that the village with its magnificent landscaping is available for hosting a range of activities.
She used the opportunity to thank co-workers at the Ministry of Tourism and the staff at the Heritage Village, Patricia Thompson and her team, for their support and effort. Liburd stated that the staff at the Ministry had spent long hours preparing to execute the activities for Exposition Nevis.
Liburd who is also the Product Development Officer at the Ministry of Tourism noted that the first Exposition Nevis serves as a month of activities, an initiative targeting tourism awareness in every aspect of an industry that is important to the island's economy.