Italy's Special Envoy to the Caribbean meets with SKN Foreign Affairs Minister Brantley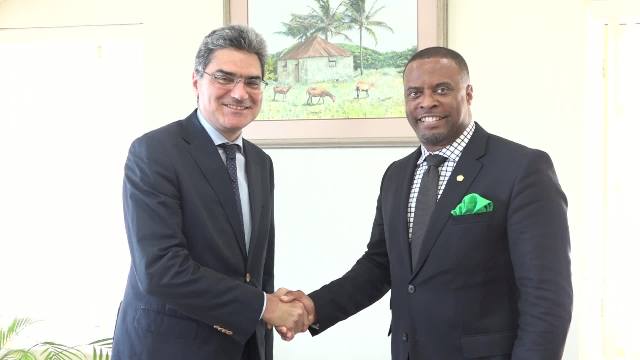 NIA CHARLESTOWN NEVIS (May, 05, 2016) — Special Envoy of the Republic of Italy for Caribbean States, His Excellency Paolo Serpi paid a courtesy call on St. Kitts and Nevis Minister of Foreign Affairs Hon. Mark Brantley, at the Nevis Island Administration's (NIA) office at Bath Hotel on May 05, 2016.
Mr. Brantley told the Department of Information at the end of the visit that the meeting was centred on deep discussions concerning Italy's bid to be a member of the United Nation's Security Council.
He explained that there were two available seats in the Council but Italy, Sweden and the Netherlands are vying for the positions and each is making its case.
"We have longstanding relations with all three but certainly a fond relationship with Italy as well and so our purpose for this meeting is really to hear from them whether or not, with our support, they would champion the issues which are of importance to the people of St. Kitts and Nevis and the wider Caribbean. So we look forward to this continued debate and discussion," he said.
Mr. Brantley also noted that they discussed other areas of mutual interest including the issue of blacklisting, Small Island Developing States (SIDS) and climate change, a matter which impacts both the Caribbean and Italy, which is made up of a number of islands.
The Foreign Affairs Minister added that they also looked into areas in which Italy could offer scholarships for training and renewable energy initiatives and best practices, since Italy had done well in the area of renewable energy.