Teachers need every opportunity to improve professional skill, says Education Officer Wilkin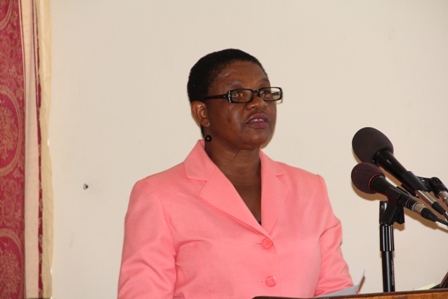 NIA CHARLESTOWN NEVIS (April 23, 2013) —Teachers need to be given every opportunity to improve their professional skill. That view was expressed by Education Officer in the Department of Education on Nevis Mrs. Palsy Wilkin, when she delivered welcome remarksat the official opening ceremony of a two-day workshop on Teacher Appraisal Training for Education Officials and Principals. The ceremony hosted by the Department of Education was held on April 23, 2013, at the Red Cross conference room.
Mrs. Wilkin said the intense workshop facilitated by Education Consultant Dr. Bronte Gonsalves, would focus on both the theoretical and practical aspects of the process and would foster teaching effectiveness and professional growth.
"As instructional leaders, we are expected to provide opportunities for teachers to provide the best instructional practices for their students. It is critical therefore, that teachers be given every opportunity for improving their professional skills.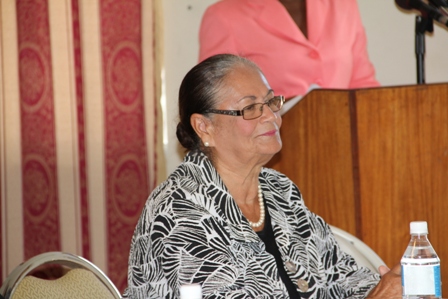 "One of the keys to this improvement is an authentic evaluation that will analyse their effectiveness in the classroom and provide feedback that will help them to improve," she said and added that based on the participants present it was evident that leadership in education was occurring institutionally at different levels of the Ministry of Education, schools and the Department of Education.
Mrs. Wilkin spoke glowingly about the facilitator, a former Education Planner, Education Officer, Clinical Supervisor and Teacher Appraiser, who is expected to conduct a similar exercise in St. Kitts at the end of the workshop in Nevis.
"For this training session we are very fortunate to have as our facilitator Dr. Bronte Gonsalves… she has a long history of affiliation to clinical supervision and Teacher Appraisal in St. Kitts and Nevis…
"The detailed programme set out for us shows the depth of knowledge that Dr. Gonsalves brings to this training. She has perfected the art, learning from every opportunity over the years. She has left no stone unturned. I think that we are extremely fortunate. She is bringing years of experience," she said.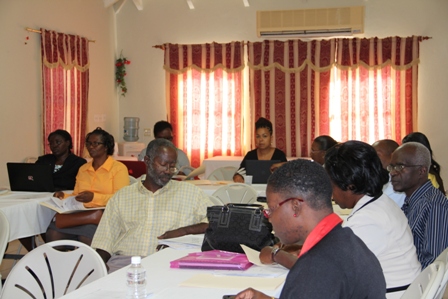 According to Mrs. Wilkin, Dr. Gonsalves serves as an Education Consultant on the Clarence Fitzroy Bryant College Board of Governors; was appointed to the OECS Secondary Education Development World Bank Project for St. Kitts and Nevis. She also provided assistance to DeoPoonwassie when she conducted the very first training for St. Kitts and Nevis in 2005. Shortly after that training, Dr. Gonsalves led the process in both St. Kitts and Nevis.
Among the topics slated for discussion during the training workshop are Teacher Appraisal in St. Kitts and Nevis; Review of the Teacher Appraisal Guide; Confusing Components/Principal Concerns; Conducting the Appraisal and Recommendations for a more efficient and effective Appraisal Process. There will also be interactive sessions and group activitiesincluding a visit to the Charlestown Primary School for a simulation exercise.
Also present at the official opening ceremony were Premier of Nevis and Minister of Education Hon. Vance Amory and Permanent Secretary in the Ministry of Education Mrs. Lornette Queeley-Connor.