Teachers on Nevis urged to render quality service to students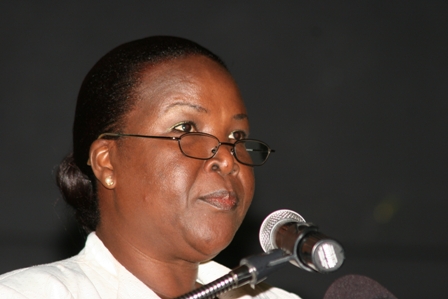 Principal Education Officer in the Ministry of Education Mrs. Lornette Queeley Connor welcomes teachers at the Department of Education's Back to School opening ceremony at the Nevis Cultural Centre
CHARLESTOWN NEVIS (September 01, 2010) — Principal Education Officer (PEO) in the Ministry of Education on Nevis Mrs. Lornette Queeley Connor, urged the island's teachers to ready themselves to improve the quality of service they rendered to students. Her advice came on Wednesday while she delivered welcome remarks at the Department of Education's annual Back to School Opening Ceremony at the Nevis Cultural Centre.
The ceremony which held under the 2010/2011 school year theme of "Building the Future through Quality Education" was attended by hundreds of teachers from across the island as Tropical Storm Fiona passed miles away from Nevis.
"I encourage us all to begin with just a little introspection – how prepared are we to build that future? Are we ready to enhance our own professional capabilities? Are we equipped with the necessary tools for constructing success for ourselves and others? Are we ready to present ourselves as school professionals who will create a learning environment that promotes quality student work and well rounded citizens? I hope so.
"Let it be reminded that the quality school teacher will first make the effort to evaluate themselves then teach students how to evaluate their own work. Teachers in a quality school would not nag but they would send out a constant message that almost all work can improve. That almost every single person alive can be a success. The quality teacher should stress that quality takes precedence over quantity," she said.
Mrs. Queeley Connor told the teachers, that a large volume of work had nothing to do with learning or quality education and reminded them that building the future through quality education would not be as easy as it sounded and it would take some time.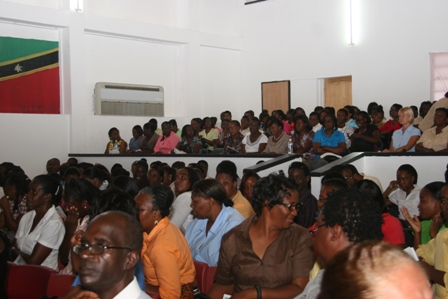 A section of the teachers in attendance at the Department of Education's annual Back to School opening ceremony at the Nevis Cultural Centre
However, if they were to wrestle with today's competitive world of quality products and services, they had no choice but to push their own goal forward from mere competence to quality.
She underscored the vital role education played in every respect in building the future and said as a result, the quality of service teachers offered and education had become increasingly critical.
"Our children need us now more than ever. Let us resolve then through our combined efforts to build a future that is neat for our children and our children's children," she said.
In conclusion, the PEO wished the teachers a productive school year.