The value of women should no longer be ignored, Nevis Gender Affairs Minister Nisbett says
NIA CHARLESTOWN NEVIS (April 03, 2023) — Women outnumber men and as such the value of their contribution to the development of any society should not be ignored. 
Hon. Jahnel Nisbett, Minister of Gender Affairs and Social Development in the Nevis Island Administration (NIA), recently celebrated with seven women who were honoured by the Department of Gender Affairs recently, as Nevis joined the rest of the world to recognise women and their achievements.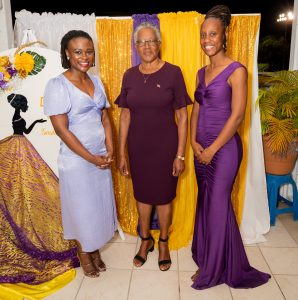 "At different points of our lives, I'm certain many of us would have heard the saying that there are more women in the world than men. We are constantly being told that we outnumber the men in our society, and you know we have to sometimes settle, but because we have that larger share within the society, we simply cannot continue to marginalise the largest pool of resources that we have within the society. Fifty percent is an average but statistics show that we are slightly over 50 percent, and so we have to continue to carve out spaces for women to thrive," she said.
However, Minister Nisbett pointed to the theme of the United Nations' celebration of International Women's Day for 2023 – "DigitALL Innovation and Technology for Gender Equality." She noted that although men have been traditionally dominant in the area of technology, the time has come for more women to venture there.
"We are constantly seeing in our technological spaces that women are underrepresented there. If you step into any IT department, if you find one or two females there, that would be a large amount, and so, we have to continue to promote the need for girls to get into those spaces.
"We have to promote giving the actual resources rather than simply saying it, and then we have to recognise the women who are pioneering and pushing through in that field so that young girls can see someone who they can look up to and recognise that that space has already been carved out for them," the Gender Affairs Minister stated.
Ms. Nisbett encouraged all to celebrate the women and girls in their lives, to encourage them, to let them know they are leaders and that they are in themselves enough.
During the award ceremony the minister presented five women involved in various aspects of technology on Nevis for their contribution in that area of development.
They are Dr. Kamara Louisy, who was awarded for her contribution in the area of Women in Science; Ms. Dianna Browne in the Digital Economy; Ms. Melissa Allen in the Blue Economy; Ms. Kenisha Lewis in the Green Economy; Mrs. Tamicia Lestrade in the Orange Economy and Mrs. Kimberley Evelyn-Lazarus for Women in Non-Traditional Roles.  Mrs. Deslyn Williams-Johnson was presented with a special award for her work in the Protection and Empowerment of Women and Families.