Transfer of Wind power to Nevis Electricity Company grid successful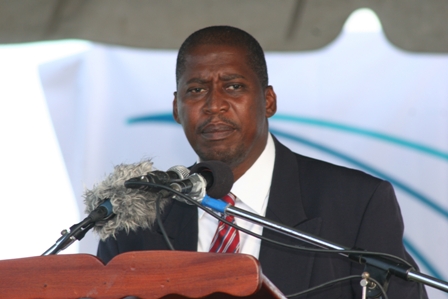 General Manager of the Nevis Electricity Company Ltd. Mr. Cartwright Farrell
CHARLESTOWN NEVIS (August 31, 2010) — The overall transfer of power from the Maddens Wind Farm to the Nevis Electricity Company (NEVLEC) has been a success. The Electricity Company's General Manager Mr. Carthwright Farrell, made the announcement at the official launch of the project at Maddens Estate on Friday.
He said the Maddens Windwatt Wind Farm project signalled the seriousness with which the authorities on Nevis perused the island's Renewable Energy sources.
"We wish to inform all sceptics that wind energy is a leading source of energy and should be explored whether through IPP's or as a vertically integrated part of the electricity system. However, it must be integrated into the system in such a way that the reliability and quality of the power supplied to the customer are not compromised.
"We are satisfied that the technical requirements have been met in realising this project – The power quality stipulations; the ability of the wind turbines to be lowered during a storm; the provision of returning the land to cattle grazing and the quietness of the wind turbines. To date this has been a successful project and we have started to reap benefits of wind power in Nevis," he said.
According to Mr. Farrell, NEVLEC worked along with WindWatt to determine the best set up for the integration of the wind farm into its grid. They conducted a step-loading exercise which was carried out at the power station from midnight to 5am in one instance. It provided valuable information for the subsequent interconnection.
"The interconnection is set up not only to ensure efficient power transfer but also to ensure the safety of the linesmen who work on the various feeders whereby once the Gingerland feeder which feeds the wind farm is down the wind farm is not allowed to generate into the grid.
"At that same time the interconnection of the Gingerland and Cotton Ground feeders was ensured so that the wind farm could be connected via the Cotton Ground feeder. This way maintenance work can be carried out on the Gingerland feeder while the wind farm services NEVLEC via the Cotton Ground feeder," he said.
The NEVLEC General Manager noted that they had already received over 500,000kWh of electricity from the wind farm since the interconnected in June and expected to receive 10,000,000 kWh per annum.
Mr. Farrell said throughout the development of the project, two of NEVLEC's technicians benefited from training with the turbine manufacturers which would add to the local expertise in the technology.
He explained that there was also in place a SCADA system through which NEVLEC's operating staff would be able to view all that was online at the wind farm from their remote position at the power station and would be able to shut the farm down in an emergency.