Two Bills slated for Nevis Island Assembly's July 12th sitting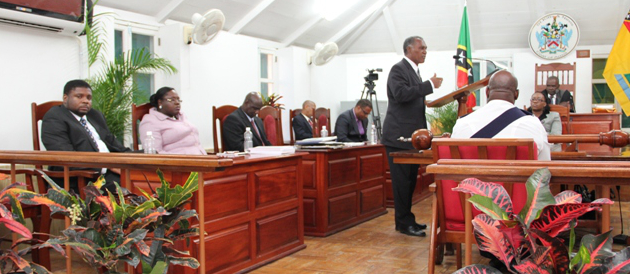 NIA CHARLESTOWN NEVIS (July 11, 2016) — Two Bills are expected to come before the Nevis Island Assembly when it meets on July 12, 2016. The sitting will be held from 10 a.m. at the Assembly's Chambers, Hamilton House on Samuel Hunkins Drive in Charlestown.
According to the Order Paper circulated by Clerk of the Assembly Myra Williams dated July 04, 2016, Hon. Vance Amory, Premier of Nevis and Minister of Finance, will seek leave to introduce and have the first reading of the Nevis Development Loans (Amendment) Ordinance, 2016 and the Nevis Supplementary Appropriation (2011 to 2015) Ordinance, 2016. He will also move their second and third reading.
The sitting will commence with the formal entry of President of the Assembly Hon. Farrell Smithen followed by prayers, a motion for the approval of the Order Paper as circulated and messages from the Deputy Governor General His Honour Eustace John.
After announcements by the President, papers will be laid followed by statements from ministers then personal explanations. The Bills will then be introduced followed by Public Business when they will have their second and third reading. That will be followed by resolutions before the sitting is adjourned.
The sitting will be carried live on NTV Channel 8. It will also be streamed online at www.nevistvonline.com