University of Virginia donates school supplies to Ivor Walters Primary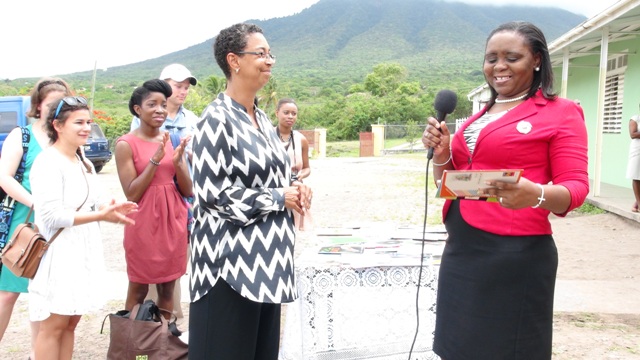 NIA Charlestown Nevis (June 03, 2014) – The University of Virginia and other donors from the United States donated reading books and teaching supplies to the Ivor Walters Primary School at Prospect, on May 27, 2014 on the school compounds.
During brief remarks at the handing over ceremony, Dr. Jeanita Richardson Representative for the University, expressed the University's interest in collaborating with the primary school.
"We brought for you some things that we hope are useful and so we have some books for your library and also teaching supplies. We have things that we hope are useful for you and as we develop this relationship more and we find out more specifically what you need, we will do our best to bring things for you when we come this time each year.
"On behalf of the University of Virginia, my students and those who have donated in the States, we would like to present to you a token of our affection and commitment to Ivor Walters School," she said.
Also present at the ceremony was Education Officer and Language Arts Coordinator in the Department of Education Avril Elliott who received the supplies on behalf of the school thanked the University for the partnership.
"On behalf of the Ministry and Department of Education, I would like to express our profound thanks to the University of Virginia and many stakeholders who have assisted in making this generous donation this morning.
"I can only endorse this partnership which I hope would be wholesome, positive and longstanding. So again thank you very much and do convey our best wishes to the other donors and the other stakeholders on our behalf. Thank you very much…and look forward to seeing you next year," she said.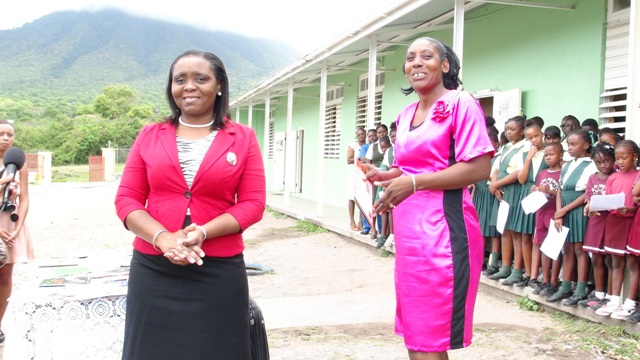 Elliott also assured the representatives that the donation would be used to promote the Department of Education's thrust of reading at schools.
"I wish to assure you that your initiative is very much in keeping with your thrust for this year, in that, we are promoting reading and actually fostering avid readers. Also our mantra for this year is collaboration, so we seek to collaborate with stakeholders locally, regionally and internationally. So what you are doing is very much in sync with our plan for this year," she said.
At the end of the presentation, Principal of the School Janice Richards explained that as part of their visit, the University of Virginia students and representatives conducted an asthma pilot testing programme in which Kindergarten grade one and two were assessed in relation to health as it pertained to asthma.