UWI sets sights on renewable energy projects for student study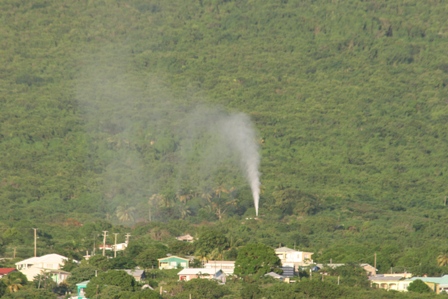 An open geothermal well in Hamilton venting steam as seen from Bath Hotel (file photo)
CHARLESTOWN NEVIS (March 30, 2010) — The University of the West Indies (UWI) Cave Hill Campus, plans to expand its Science programme to include in its curriculum for the first time Earth Sciences and Nevis' renewable energy projects will be an asset to the programme.
Dean of the University's Faculty of Pure and Applied Sciences Mr. Peter Gibbs, said during a visit to the ongoing renewable development sites on Nevis made the disclosure in an interview with the Department of Information on Monday.
"In addition to the traditional Sciences – Physics, Maths, Biology Chemistry and now Computer Science, we are expanding and introducing an area in earth sciences which covers everything that deals with the earth both up above that is in the air around us and on the ground and part of this programme is renewable energy.
"This is the part that we probably knew least about and we only just managed to get a lecturer in renewable energy to join us…We now offer it as a minor in our degree programme and our hopes are that we can introduce it in another couple years and expand it to become a major," he said.
Mr. Gibbs explained that students would be recruited to undergo studies in that critical field and was hopeful some would come from Nevis.
"We will be recruiting students especially from Nevis and we hope that by the time we have the programme as a major some of the other islands would have come on board with something real, whether its wind, geothermal, tidal or whatever form of energy or solar and then we would need these students in the Caribbean to support this industry that will be developed in the future," he said.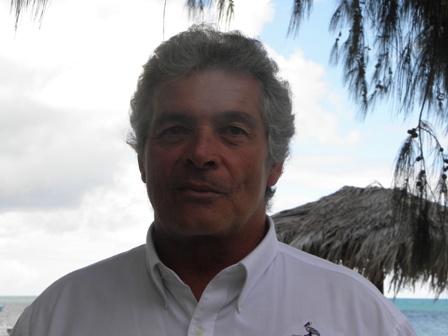 Dean of the University of the West Indies Faculty of Pure and Applied Sciences Mr. Peter Gibbs
While on Nevis the UWI Professor said he met with several stakeholders in the renewable energy projects the feedback was positive and encouraging.
Mr. Gibbs said he was given the assurance once the new science programme that would include renewable energy, students with research assignments would be welcome.
"They [stakeholders] basically said when we start our Sciences Programme on a much larger scale, when students are assigned to research projects and we want to pay field trips and visits, that we are more than welcome to visit Nevis and spend some time with the renewable plants whether they are geothermal or wind. That is very encouraging because we have nowhere else that we can send them in the Caribbean," he said.