Women's Group Formed From Social Development Workshops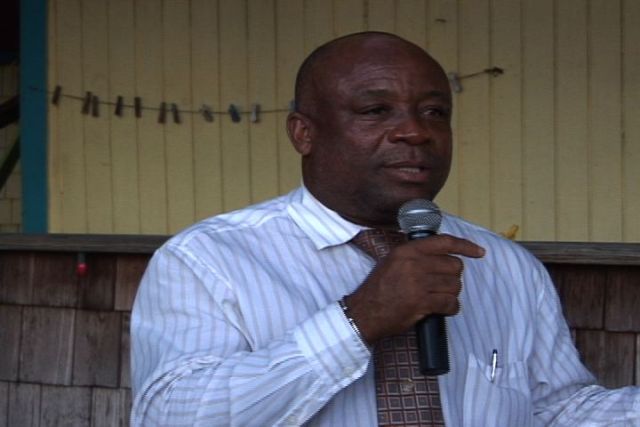 Minister of Social Development in the Nevis Island Administration the Honourable Hensley Daniel at VOW launch party.
NIA – CHARLESTOWN, NEVIS (November 30, 2010) — The Nevis Island Administration's [NIA] Minister with responsibility for Social Development, the Honourable Hensley Daniel and his Permanent Secretary [PS] Mr. Alsted Pemberton are today pleased that workshops from their ministry has lead to the formation of Nevis' newest women's group; Voices of Women [VOW].
At a launch party, last Wednesday [Nov. 24], Minister Daniel congratulated the staff of the Department of Social Services for having facilitated workshops that led to the group's initiation.
"We put at your disposal all of the community centres in Nevis, all of the units of Social Development, all of the sports facilities [and] all of the recreational facilities. The time is now to get busy [and] to get working," Minister Daniel said.
While pledging the NIA's support of the group's formation, the Social Development Minister called on VOW to be more than "just a group."
VOW, he said, "has to make a vow" to spend a large amount of time, energy, effort and money into ensuring that "Nevis has a sound and solid social foundation" in order to promote economic development.
Facilitating programmes, such as those that deal with parenting skills and would therefore benefit the youth population, Minister Daniel believes would lead to a stronger and more unified Nevisian community.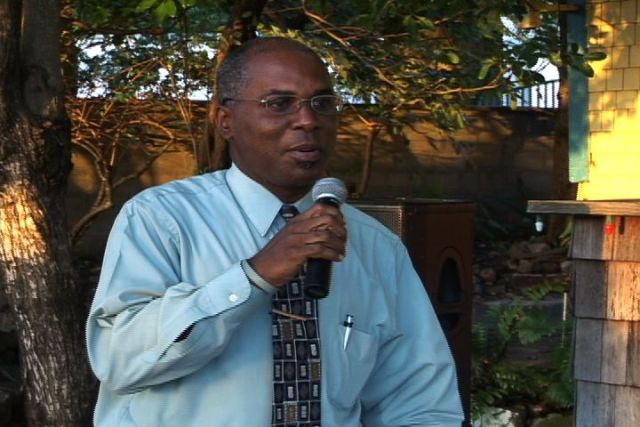 Permanent Secretary in the Ministry of Social Development Mr. Alsted Pemberton.
"We certainly do not want hear that it is just an organisation. We want to hear that things are happening, that you'll be running parenting workshops, that you'll be having programmes for women and men and that you're looking after the welfare and well-being of children," he explained.
PS Pemberton commended the women of VOW for forming an organisation which he said could have many benefits for the people of Nevis, adding that the group was especially important because "we [Nevisians] live in a changing society that affects women."
"The role of women in our society cannot be overemphasized and therefore as a group, I want to encourage you to stand together and demand your fair share in society; even in a male dominated society," he highlighted.
VOW, according to President Ms. Gwenneth Browne, aims "to empower women in Nevis through advocacy, fundraising and capacity building."
Because VOW is a family-oriented organisation, it is "in the community for men, women, boys and girls."
"VOW is for all of us so get on board, do what you can to help us so that we may be enriched and empowered to move and go places," President Browne explained.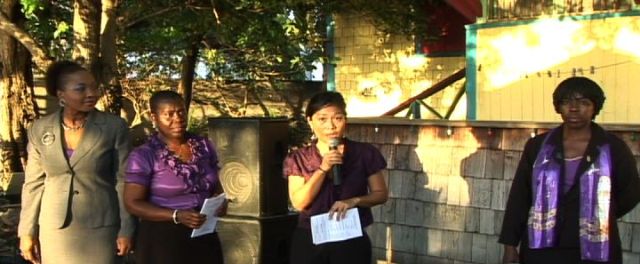 Voices of Women executive members (l-r) Treasurer Mrs. Nicolle Lawrence, Secretary Ms. Yvette Jackman, Peace Corp Volunteer Ms. Julian Talbo and President Ms. Gwenneth Browne.
The launch party was held at sunset at Cafe des Arts which is located adjacent the Alexander Hamilton Museum in Charlestown.
The interim executive committee comprises of president Ms. Gwenneth Browne, secretary Ms. Yvette Jackman and treasurer Mrs. Nicole Lawrence.