15th annual Nevis Triathlon set for November 12; Athlete Adventurer Ross Edgley participating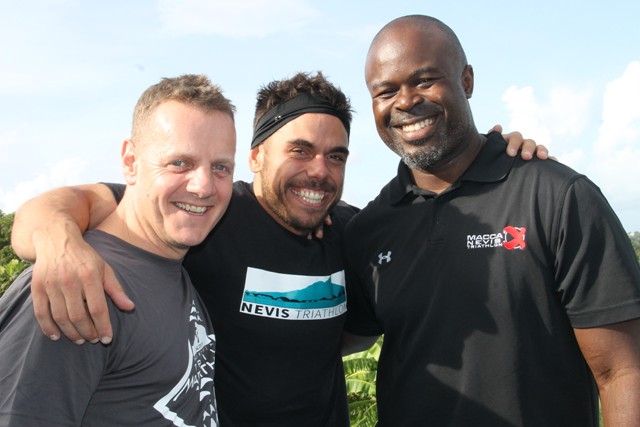 NIA CHARLESTOWN NEVIS (November 10, 2016) — The 15th annual Nevis Triathlon hosted by Nevis Multisport with support from the Nevis Island Administration (NIA) will commence at the Samuel Hunkins Drive on November 12, 2016.
Race Director for the triathlon Greg Phillip told the Department of Information November 10, 2016, that sporting event has attracted 40 participants from the Caribbean, the United States of America and the United Kingdom, an increase over last year's overseas registration.
He said among the highlights this year will be the participation of GQ fitness writer and Athlete Adventurer Ross Edgley who will bring his "treeathlon" to the triathlon in his quest to raise awareness for green energy.
"Ross does some tremendous adventure things and…he is doing the entire triathlon carrying a tree that he says would weigh about 100 lbs. So he is going to swim with this tree, he's going to bike around the island with this tree and he's also going to run with this tree.
"I'm looking forward to seeing if he can do something like this. So that in itself is something special and I think that people should come out and see. Ross is also an environmentalist and he wants to do crazy special things to cause people to think about renewable energy, to think about being more cautious about protecting the environment," he said.
Phillip said although the athlete's awareness drive falls in line with the renewable energy thrust on Nevis it would appeal to an international audience as well.
Meantime, Phillip who is also the Chief Executive Officer of the Nevis Tourism Authority (NTA), believes that both the tourism industry on Nevis and the Nevis Triathlon stand to benefit from the publicity Ross Edgley brings to the island.
He noted that the athlete already has commissions from Red Bull for its online publication and GQ magazine which recently published an article on what he would be doing in Nevis.
The NTA official added that a number of journalists from the United States and the United Kingdom would also be on the island for the event.
Phillip also used the opportunity to thank the NIA for its assistance and support of the event which he says is also being used as a vehicle to promote the island of Nevis.