2016 – A year of notable accomplishments for RSCNPF Nevis Division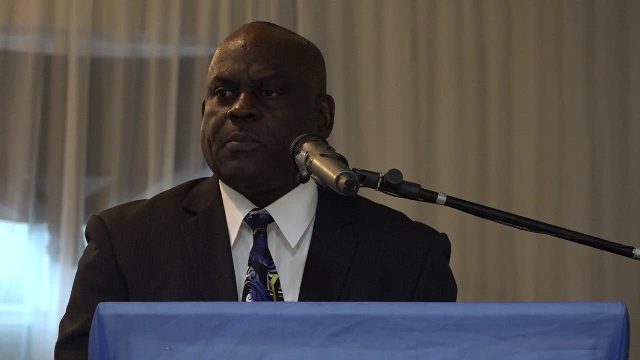 NIA CHARLESTOWN NEVIS (March 08, 2017) — Apart from what will be remembered as its most memorable achievement of attaining the highest detection rate in the Federation for the past 20 years in 2016, Superintendent Trevor Mills, who heads the Royal St. Christopher and Nevis Police Force (RSCNPF) (Nevis Division) says there were other notable successes at the Division.
Presenting an overview of the Division's performance at the 14th annual Constable's Awards Dinner and Dance, hosted by the Strategic Planning Group on March 04, 2017, at the Occasions Entertainment Arcade at Pinney's, Superintendent Mills said they had received written commendation for the management of at least one event.
"We successfully managed all the schools' meets, the Nevis Blues Festival, the Inter-Primary Mini Olympics, Nevis Round Island Relay, Win fest, C.P.L. Practice Cricket March and Culturama 44, all of which occurred incident free. In addition, we also successfully managed the visit of the HRH Prince Harry on November 23, 2016.
"I received a letter from the Premier Hon. Vance Amory, thanking the men under my command for a job well done," he said.
During the year, the police also conducted several initiatives to combat crime on the island, including Village walk through, Knock and Greet, Meet and Greet, officer's regular attendance at worship within the communities as a group media awareness on crime tips and officers.
"Several strategic operations such as Operation Snap and Meet and Greet. There were vehicle check points in all Police Districts on the island. We took part in the major operation dubbed Operation Safe Streets, which involved local forces working with regional forces in an effort to combat crime and violence in our Federation.
"The operations on Nevis were well executed and we had some success. We continue our school liaison programme with an officer assigned to a school throughout the island. The purpose is to work with the principle and staff to identify early incidents of bullying and truancy," Mills explained.
However, the Superintendent noted. that the officers in the Division also benefited from several areas of training, among them, in the Regional Security System (RSS) Section Leaders Course, All Arms Advance Drill and Ceremonial Course, Gender Sensitization Course, Court Prosecutors Course and Enhanced Constable Development Course.
He added that the officers continued to excel in the internal promotion examination. The Divisional Head thanked retired Assistant Commissioner of Police Joseph Liburd, for his continued assistance and tutorship in preparing the officers for the examination free of cost.
Mills, used the opportunity to urge the officers to continue to improve themselves academically.
Meantime, the Division Head stated that the year did not end without disciplinary action against some officers. He said the Police Force is a discipline organisation and as such all members are required to conduct themselves in and out of uniform, on and off duty in a disciplined manner.