Nevis Minister of Health delivers address for World Kidney Day 2017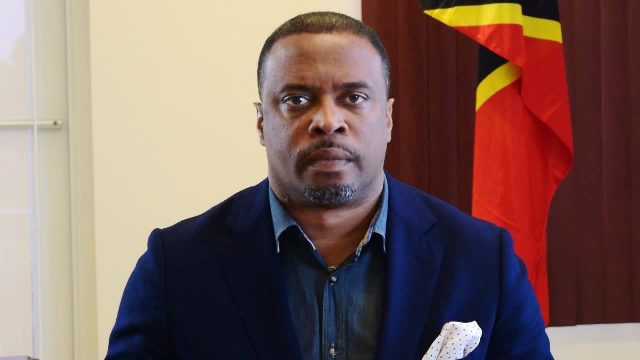 NIA CHARLESTOWN NEVIS (March 09, 2017) – The following is an address delivered by Minister of Heath in the Nevis Island Administration Hon. Mark Brantley on the occasion of World Kidney Day, observed on March 09.
World Kidney Day is a global awareness campaign which is commemorated every year during the month of March, to raise awareness of the importance of our kidneys.
This year's theme is "Kidney Disease and Obesity" and it is not only relevant on the global level where over 600 million persons are obese but also nationally, here in St. Kitts and Nevis, where over 70 percent of the adult population is overweight or obese.
Of the obese population in the Federation, there is also a concern among our children in some parishes, where up to 30 percent of them in the 0-5 age range are also overweight or obese.
Obesity is a risk factor for non-communicable diseases, such as diabetes and hypertension which contribute to the development of end stage renal disease. These conditions are also prevalent in our population here on Nevis, with a recent study estimating that the prevalence of diabetes is 17 percent and hypertension 24 percent.
This year's World Kidney Day campaign, promotes education about the harmful consequences of obesity and advocates living a healthy lifestyle.
The Ministry of Health continues to adopt this approach of health education, which promotes lifestyle changes across all demographics of the population through its various programmes.
Our school health programmes focus on the promotion of a healthy diet and physical activity, which are also key in reducing the risk of kidney disease.
Two of our most successful primary school programmes include Chef Academy and My Healthy Plate. Both of these initiatives involve education on healthy eating and reinforce the National Food Based Dietary Guidelines which include but are not limited to:
Eat different types of fruits everyday
Eat a variety of vegetables daily
Limit the use of food and drink with added salt and sugar
Be physically active for at least 30 minutes each day.
These school initiatives also involve practical components with the Chef Academy, promoting agriculture in schools through the donation of hydroponic systems and My Healthy Plate, conducting measures of children to determine Body Mass Index (BMI), before and after intervention to determine impact of the health education activity.
Secondary health promotion initiatives conducted by the Ministry of Health, include screening activities which facilitate early detection of non-communicable diseases, such as diabetes and hypertension.
Screening exercises are conducted at health centres, workplaces, as well as via outreach activities and have been successful in bringing newly diagnosed persons into care and treatment at the six health centres around the island. In 2015, 12 cases of hypertension were diagnosed and 37 cases of diabetes.
Treatment services for end stage renal disease also include dialysis. These services are accessible to citizens and residents in Nevis at the Joseph N. France Hospital and will be available in the not too distant future on Nevis, with investment by the NIA into a dialysis facility in partnership with other stakeholders, including the Government of China (Taiwan). Other institutional health services are also available at the Alexandra Hospital, where an internist/cardiologist is part of the staff compliment.
The Ministry of Health, is committed to further developing policy on Non-Communicable Diseases (NCD) which will include strategies to prevent end stage renal failure.
The National NCD Policy and Plan 2013-2017, outlines several initiatives, including the development of legislation to support health promotion activities and the implementation of research initiatives, the latter of which we have been actively engaged in with partners including the University of Virginia. A committee has already been established to work on a new policy plan for 2018 and beyond.
The Nevis Island Administration, remains committed to the prevention and control of non-communicable diseases. Through our programmes and policies, we continue to work towards a reduction in the incidence of these diseases which, not only impact our health but our economy as well.