SKN ranks 30 among 126 countries worldwide, #2 in region in Rule of Law Index 2018-2019, Premier pleased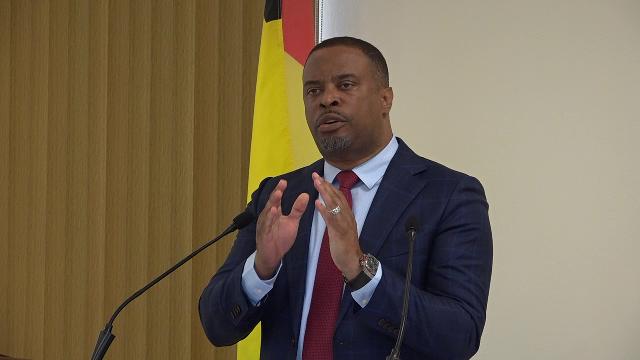 NIA CHARLESTOWN NEVIS (March 04, 2019) — Hon. Mark Brantley, Premier of Nevis, says the fact that St. Kitts and Nevis is ranked number 30 in the world and number 2 in the Caribbean region out of 126 countries in a recent publication of the World Justice Project (WJP) on the Rule of Law Index 2018-2019 speaks volumes for what the government is seeking to achieve.
The Premier made the comment on March 01, 2019, at his press conference at the Nevis Island Administration's Cabinet Room at Pinney's Estate.
"I believe that is significant and that is why I've mentioned it because as we promote investment, as we promote the building out of our democracy. The rule of law is critical…
"I think that speaks volumes for what we are seeking to do as a country in the context of the rule of law, and it should bring some comfort for those who are seeking to invest here, those who are doing business here and for those of course who live and work here," he said.
Mr. Brantley, who is also a Federal Minister, believes that in time to come St. Kitts and Nevis would move up the ranking to first place in the Caribbean.
"The fact that we as a little country can be ranked by this international organization as number 30 in the world and number 2 in the Caribbean, I think it is very significant, and since we are only one point behind Barbados I think it means that as we continue to develop we might well become number one in our region," he said.
The report was released by the WJP, one day before the press conference.
The WJP is an independent multidisciplinary organization working to advance the rule of law worldwide.  Its three primary goals are to increase the understanding of the rule of law and its foundational importance; greater rule of law adherence by governments; and multidisciplinary, home-grown adherence by governments.
According to the WJP, their original research and data is grounded in the World Justice Project Rule of Law Index. The index measures how the rule of law is experienced and perceived by the general public worldwide based on more than 120,000 households and 3,800 expert surveys. The WJP describes its report as the world's leading source for original, independent data on the rule of law.
The organisation says rule of law means better public health, economic development, and political participation, and believes it is the necessary ingredient to all forms of human endeavour, especially in communities of greatest need.
"Effective rule of law reduces corruption, combats poverty and disease, and protects people from injustices large and small. It is the foundation for communities of justice, opportunity, and peace – underpinning development, accountable government, and respect for fundamental rights," the organisation says.