Acting Comptroller of Customs in SKN lauds achievements of Nevisian Customs stalwart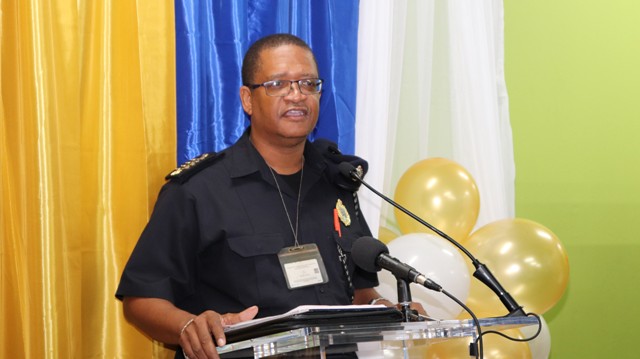 NIA CHARLESTWON NEVIS (October 26, 2018) — Acting Comptroller of Customs in St. Kitts and Nevis Mr. Kennedy DeSilva lauded the efforts and achievements of Brian Anthony David of blessed memory who served at the in Nevis for over 20 years.
Mr. DeSilva who works at Customs and Excise Department in St. Kitts, said at a renaming ceremony of the Customs Courier Facility in Charlestown on October 25, 2018, that he was privy to some of his former colleague's contribution which continue to impact the entire department to this day.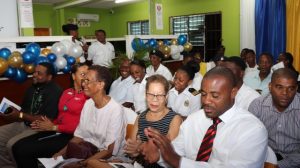 "David would have been the officer at the time who was responsible for the first introduction into the Customs side, at least in automation, where he would have introduced the ASYCUDA World system over here.
"He would have overseen the installation, the deployment of that and that is one of the focal things we use right now to assist us in our trade facilitation role, and that has been his contribution. It has been significant and we are still relying on what he implemented over 20 something years ago to this day. So that is a significant contribution," he said.
Mr. DeSilva also spoke to what he describes as Mr. David's involvement in "soft politics" at the department in terms of forging a relationship between the departments in St. Kitts and in Nevis.
"Though we are separate islands, sometimes we don't collaborate enough as we ought to, and David made sure, whether it's through sports or whether through the daily dialogue, that he would have from time to time with our comptrollers then, he made sure that we still remained one Customs even though we were separated by the waters and that is significant. Networking and that relationship is important, and that is why we are here today to honour him," he said.
The Acting Comptroller expressed satisfaction with the department on Nevis for ensuring that Mr. David is honoured and his memory would live on. He also thanked the Nevis Island Administration for recognising one of Customs' stalwarts.