Minister Evelyn pays tribute posthumously to former senior Customs officer Brian David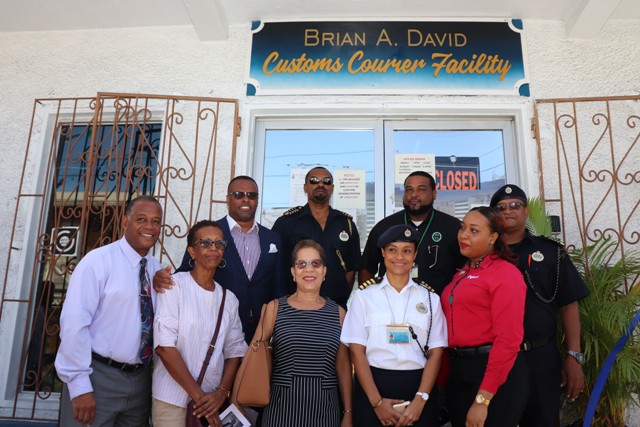 NIA CHARLESTOWN NEVIS (October 26, 2018) — Hon. Eric Evelyn paid homage to Mr. Brian Anthony David of blessed memory, a former senior Customs Officer at the Customs and Excise Department in Nevis at a ceremony on October 25, 2018, to rename the Customs Courier Facility in Charlestown in his honour.
Mr. Evelyn, who is also a family member of Mr. David, read the tribute at the event which formed part of the department's celebrations commemorating the 60th anniversary of the Customs and Excise Department in St. Kitts and Nevis.
"Born on August 2, 1956, Brian Anthony David made a sterling contribution to the development of Nevis and more so to the advancement of the Customs and Excise Department on the island.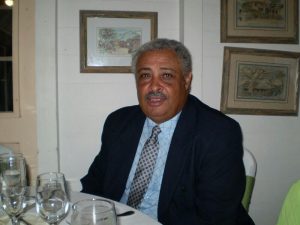 Brian was a model public servant and gave 32 years of unstinting service to the government and people of Nevis and by extension the Federation.
In cricketing terms, Brian was an all-rounder and served various ministries and departments in numerous capacities.  He entered the public service and was appointed as clerk in the Ministry of Trade, Development, Industry and Tourism effective May 13, 1974.  Four years later, he was transferred to the Inland Revenue Department as clerk effective February 01, 1978.
A mere two years later he was transferred and appointed as clerk at the Customs Department, Nevis effective April 01, 1980. Before he could have settled properly there, duty called him elsewhere and he was transferred and appointed as clerk/bailiff at the Magistrate's Department, effective May 16, that same year, 1980.
After approximately one year in that positon Brian was again transferred on promotion as senior clerk to the Accountant General's Department, effective April 01, 1981.  After serving the Inland Revenue Department so well between 1978 and 1980, he returned and was appointed executive officer of that department on November 23, 1983 and where he spent the next six years.
On July 01, 1989, Brian was again transferred to the Customs Department where he served as an Acting Senior Customs Officer.  Exactly one year later, on July 01, 1990, he was appointed to that position.
Due to his impressive track record in Customs and the Public Service in general, he rose to the rank of Deputy Comptroller of the Customs Department effective January 01, 1997, a position he held with distinction.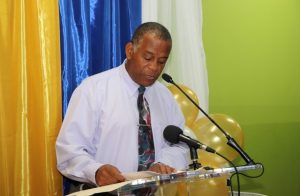 After a five-year stint at the top position of Customs on Nevis, Brian was transferred and appointed as Director, Youth and Sports Division, effective April 01, 2002.  Two months later, on June 15 he was transferred and appointed as Principal Assistant Secretary in the Ministry of Economic Planning, a position he held until his retirement on March 04, 2006.  Of the 32 years in the Public Service, Brian served the Customs Department for 13.
During his years in the service, he was always a regular and punctual employee and missed work only when he absolutely had to.  He had an excellent relationship with his co-workers and showed respect to those in authority as well as those whom he supervised.  He was exceptionally pleasant and was loved by his staff.
Overall, Brian was very humble, a committed and dedicated employee who often went beyond the call of duty.  Could the Nevis Island Administration and the people of Nevis have asked for more from such a career Public Servant?  I say no.
Brian was not only an exceptional public servant, he was also a community-minded individual.  He gave of his time and expertise to the Hanley's Road community, as he was an integral part of community projects. He was very reliable and could be called upon at any time to assist in community activities.  He was kind, very approachable and had the qualities of a true community man, and I think it is public knowledge but for those who may not remember and who didn't know him, he was very sharp and a ladies man.
He was also a family man who adored his family.
Brian was an ardent cricket fan and loved the game. In his younger years he played the game in the community of Hanley's Road but his real exploits at cricket came as an umpire.  He served as an umpire for numerous years and officiated in local games as well as at the sub-regional level.   So in love was he with cricket that whenever cricket was being played at the park, Brian would be present whether he was umpiring or not.
Brian died suddenly on November 27, 2009 at the tender age of 53.
As a member of his family, I would like to take this opportunity to thank the Nevis Customs Department for this very thoughtful gesture.  There is no one more fitting to receive this accolade than the late Brian Anthony David.
To the Customs Department, thank you from Brian's entire family.  We also take this opportunity to wish you a very Happy 60th anniversary."