Acting High Court Judge Appointed For Nevis and Montserrat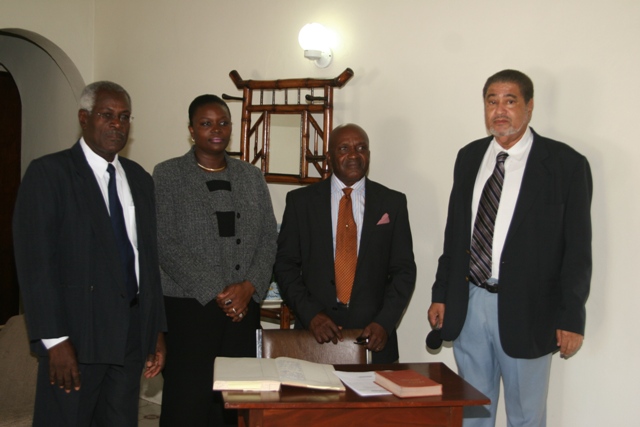 (l-r) Legal Advisor in the Nevis Island Administration Mr. Herman Liburd, Acting Registrar for St. Kitts-Nevis Ms. Janine Harris, Acting High Court Judge for Nevis and Montserrat Justice Albert Redhead and Deputy Governor General His Honour Eustace John
NIA-CHARLESTOWN, NEVIS (January 17th 2011) — Retired Justice of Appeal Mr. Albert Redhead, last Monday [Jan. 10], took the Oaths of Allegiance and Due Execution of Office at the Government House at Bellevue.
Following the brief swearing-in ceremony, Justice Redhead is expected to serve as Acting High Court Judge for Nevis and Montserrat until April 30, 2011.
Introduced as "no stranger to Nevis" by Deputy Governor General His Honour Eustace John, Grenadian-born Justice Redhead has had a triumphant career in the legal profession.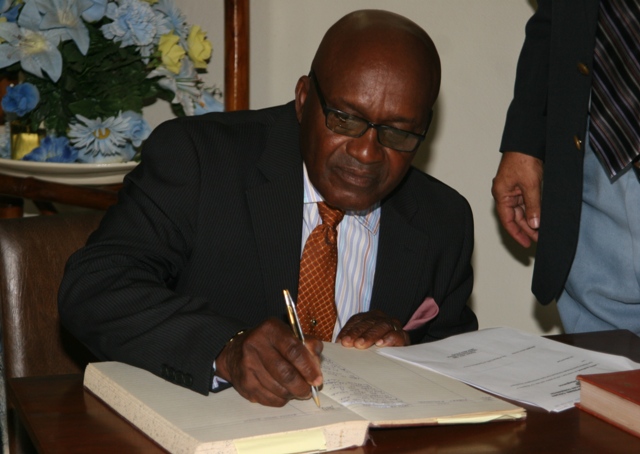 Justice Albert Redhead
Among other posts, he served as Crown Counsel from 1974-1975, Registrar for St. Kitts-Nevis for five years since 1975, Director of Public Prosecution from 1980-1985 and Eastern Caribbean Supreme Court of Appeal Judge from 1997-2003. He occasionally served as Acting High Court Judge in the region in 2010.
In "welcoming Justice Redhead back to Nevis," the Deputy Governor General "wished him well."
"We hope that he would enjoy his stint with us here in Nevis," he said.
Mr. Herman Liburd, in his capacity as Legal Advisor, represented the Nevis Island Administration at the ceremony.
Like the Deputy Governor General and Acting Registrar for St. Kitts-Nevis Ms. Janine Harris, Mr. Liburd offered congratulatory and welcome remarks to Justice Redhead but also used the opportunity to reflect on their past working relationship.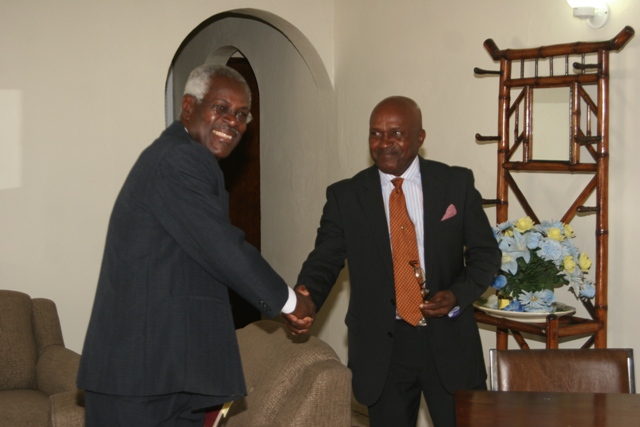 NIA Legal Advisor Mr. Herman Liburd welcoming Justice Albert Redhead
"I want also to welcome back Justice Redhead who I know quite well. As a matter of fact, his name is on my Call certificate when I happened to be called to the Bar. I worked with him when I was required to intern before I was admitted [to the Bar] so I can say that I do know Justice Redhead," Mr. Liburd explained.
The newly installed Justice, in his response, said he was grateful for the opportunity because the special love he had developed for the twin-island federation.
"It's always a pleasure being in St. Kitts and Nevis. As a matter of fact, at one time I regarded St. Kitts-Nevis as my second home," he said.
In 2009, Justice Redhead travelled to Nigeria, Ghana and Gambia on a United Nations Economic Organisation of West Africa State [ECOWAS] fact finding mission.