Nevisians to Benefit From Dance Workshop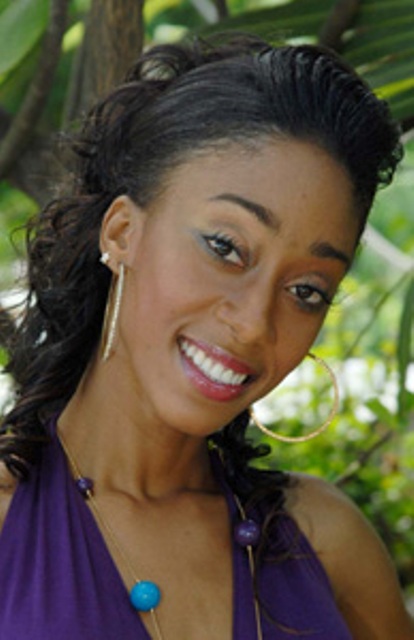 (photo provided) Pageant enthusiast and dance instructor Ms. Fatisha Imo.
NIA-CHARLESTOWN, NEVIS (January 14TH, 2011) — Dance enthusiast and first runner-up in the 2007-2008 National Carnival Queen Pageant Ms. Fatisha Imo is destined to participate in next year's Miss Universe Pageant.
Ms. Imo, who recently ranked among the top 40 contestants in the Miss World Pageant in China would, tomorrow [Jan. 15] at the Nevis Cultural Centre host a dance workshop titled "I feel like dancing."
The six-hour workshop for females aged 12 to 17 would facilitate dances in hip-hop, jazz and afro-Caribbean dance genres and forms part of Ms. Imo's fundraising efforts to participate in the renowned pageant.
"It is basically dedicated to provide a positive dance environment that gives every student a high quality instruction in all facets; that is jazz, hip-hop, afro-Caribbean, that I'll be teaching," Ms. Imo said in a recent interview with Communications Officer for the Nevis Island Administration's [NIA] Ministry of Social Development, Mr. Curtis Morton.
As a university student, Ms. Imo said her aim "is to mold young minds and develop a happy and healthy dance in a love-to-dance environment."
Ms. Imo said in her interview that she was already making plans to host additional workshops in the spring and summer seasons.
"It's all about my passion. It's not even about the money and going into Miss Universe. It helps to open young children's minds. If you have problems at home you can just express it in dance," she said.
While on Nevis, the pageant and dance enthusiast visited the Gingerland and Charlestown Secondary schools where she said students seemed excited about the workshop.
"My aim is to join the 120 girls that I had during the summer and Christmas workshops and the Nevis set to have a big production alongside Shekinah Dance Theatre," she said, adding that high school students expressed their desires to learn hip-hop dances.
"Mainly, I would try to focus more on hip-hop because I've been to Charlestown Secondary and to Gingerland Secondary and most of the students want me to focus on hip-hop. It is going to be something more contemporary; not too much street hip-hop: something that they can carry into the schools and something that you would have fun with," Ms. Imo said.
Coordinator of the Youth Division within the Ministry of Social Development, Mrs. Dianna Pemberton assisted Ms. Imo with her public relations efforts.
While the workshop was not being sponsored by her ministry, Mrs. Pemberton said "the Ministry of Social Development is for the youths."
"The Ministry," she explained, "remains committed to promoting youth empowerment."
"If there is a youth initiative out there of course we want to give our support in any facet. In any area of our youth's development we avail ourselves to every opportunity to assist," she said.
There is a $30 registration fee for tomorrow's workshop.