Adhere to Crop Planting Schedule Programme you will benefit, top Nevis Agriculture Official tells local Farmers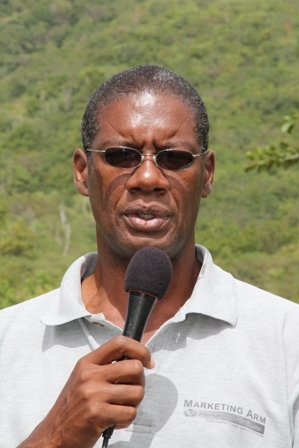 NIA-CHARLESTOWN NEVIS (February 13, 2012) —
Direct of Agriculture on Nevis Mr. Keithley Amory appealed to local Farmers to adhere to the planting schedules the Department had put in place to avert a glut on the market and to ensure year round availability of produce to consumers.
Mr. Amory's call came in response to a question posed by the Department of Information on Friday February 10th regarding the measures in place to assist with marketing and supply consistency. He was at the time on an island wide field trip with Minister of Agriculture Hon. Robelto Hector, Permanent Secretary in the Ministry of Agriculture Dr. Kelvin Daly and Agricultural Extension Officers.

"I am appealing to all Farmers to adhere to the Crop Planting Schedule that the Extension Officers and the Department of Agriculture would work out with you. If you have any concerns about it, kindly contact us at the Department of Agriculture and we will work with you with a crop planting programme.
"The reason for this is that it will ensure that we have consistency of supply and not a glut on the market at any one time. In this way we are able to supply the hotels and the restaurants with all the material that they need at any given time but once we have persons not adhering to our proper crop scheduling programme it can lead to problems of a glut on the market, reduced prices and then Farmers start to complain that we are encouraging them to plant crops and do not have a market for them," he said.
According to Mr. Amory, with a proper crop scheduling programme the Department would be able to bring to an end marketing and consistency problems and it would also give each Farmer the opportunity to benefit from good farming practices.