Nevis Agriculture Minister satisfied with Agriculture Extension Officers efforts in island's food security thrust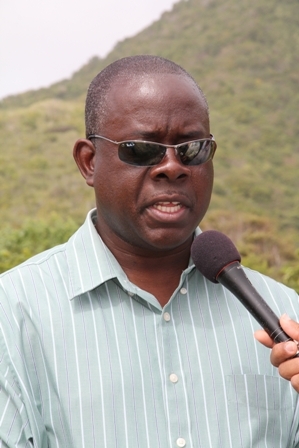 NIA-CHARLESTOWN NEVIS (February 13, 2012) —
Minister of Agriculture on Nevis Hon. Robelto continued to voice satisfaction with the sustained efforts of Agriculture Extension Officials on the island which he said had impacted positively on the food security thrust on Nevis.
Mr. Hector's comment came while on an island wide tour of privately and Government owned farms around the island on Friday February 10, 2012. He was accompanied by Permanent Secretary in the Ministry of Agriculture Dr. Kelvin Daly, Director of Agriculture in the Department of Agriculture Mr. Keithley Amory and Agriculture Extension Officers. He also gave his impressions of a Cades Bay farm owned and operated by Mr. Mansa Tyson.
"I am very much impressed particularly with the effort of the [Extension] Officers to make sure that we move one step closer to have the Department and Farmers meeting the supply for tomatoes on an annual basis.
"Last year my information is that we did six months of the year and I am hoping that we can at least do it for another two months of the year," he said.
Mr. Amory in turn spoke to his Department's projections for tomatoes as far as local production was concerned and the steps they had already taken to fulfil them.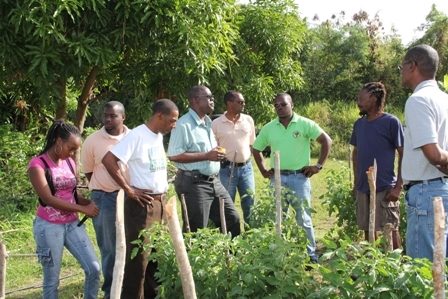 "What we are hoping to do is to have basically import substitution on tomatoes. We want to have like the Minister said another two months…The climate here is very conducive to it. We have been searching for verities that would give us year round production," he said.
The Agriculture Director also spoke to a plot of tomatoes of Cades Bay Farmer Mr. Mansa Tyson where new varieties of tomatoes were under cultivation and underscored the importance of farmers to follow the planting instructions of the Department.
"The plot that the Minister saw, we had introduced two new varieties, a new and improved Adonis and Tyranus and we are looking once again at the Heat Waves to go through the summer period and then we will come back in the cool season with those two first varieties. So we are really hoping to keep this production year round.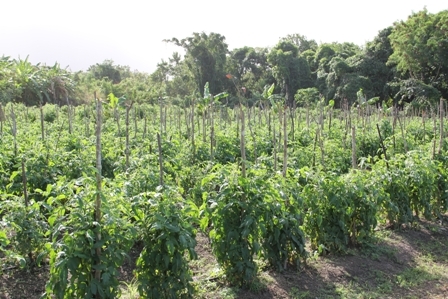 "What we are asking is for Farmers to work along with the Department and to plant at a certain time frame when we ask you so that they do not flood the market. We are just hoping that they work along with us so that we can meet these targets not only for the tomatoes but we are looking at a number of other crops we want to target for commodity development," he said.
According to Mr. Amory, the new improved varieties of tomatoes gave good yields in cool temperatures, one a little more than the other, since one variety was much larger than the other. However, their taste and quality were two things the consumer liked about the new varieties.
The older Heat Wave or Heat Master variety he said was a god salad tomato and therefore, the Department was hoping to push all the selected varieties with Farmers on the island.
Meantime, Dr. Daly also gave his impressions of Tyson's farm and praised him for his accomplishments so far in Agriculture on Nevis.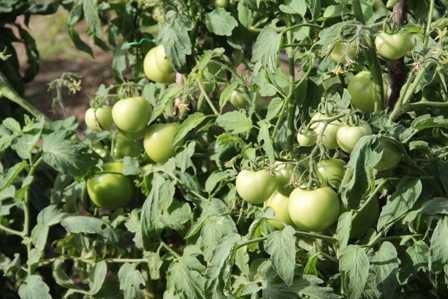 "Mansa is always one of our premium Farmers and his entrepreneurship is what we are looking for. He is now more a business man than a Farmer and we commended him to that effect.
"He does not need much prompting he is always on board with new ideas, he works well with the Extension staff which is critical, he has a superior outlet at his own location and he also sells through the Marketing Division. So he is the kind of iconic figure we are looking for, to move agriculture forward in 2012 and beyond," he said.