Basic Plumbing Installation Course students praise Nevis Ministry of Social Development; tutor for learning opportunity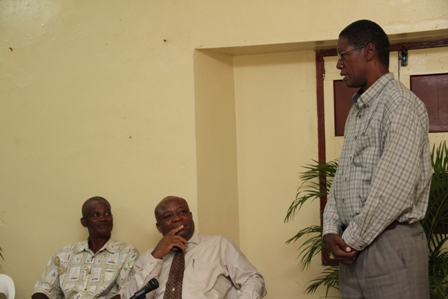 NIA-CHARLESTOWN NEVIS (December 14, 2011) —
Participants at a recently concluded Basic Plumbing Installation Course had nothing but praise for the Ministry of Social Development on Nevis for providing the opportunity for continued self empowerment. The commendations came at the end of a simple but significant graduation ceremony at the conclusion of a six week course at the old St. Johns School at Brown Pasture.
All 12 participants including three females were presented with Certificates of Achievement by Minister of Social Development on Nevis Hon. Hensley Daniel on Monday December 12, 2011 for the sessions conducted by facilitator Mr. Alex Claxton.
The course which commenced on October 10, 2011 to December 12, 2011, fell under the umbrella of the Ministry of Social Development's programme "Empowering Men and Women for Change".
In his Vote of Thanks Mr. Keithley Amory personally thanked Minister Daniel for making the course available to the participants and Tutor Mr. Claxton for his commitment and dedication to which ensured that they got a thorough understanding of the basics of plumbing installation.
He also spoke to the level of student's enthusiasm and attributed it to Mr. Claxton's qualities.
"Even in wet weather you found that persons were anxious to come to class… That is to show you the level of enthusiasm the students had.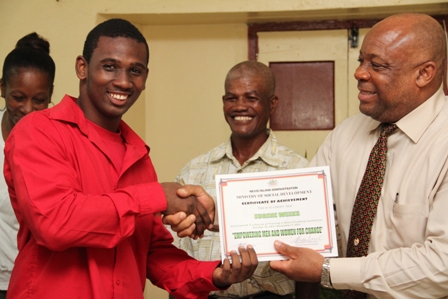 "I do believe this is because of his personality in ensuring that we learnt what we came here for and even after class persons would stay back and persons would ask him questions they thought needed clarifying and I think that was very good for him and for the students. So we would like to say thank you Mr. Claxton for a job well done," he said.
Meantime, a young male student Mr. Eugene Weekes of Hamilton Village told the Department of Information, moments after he had received his Certificate of Achievement, that the Plumbing Course would serve him a world of good.
"The course was excellent and encouraging and definitely I learnt a lot. I must say that Mr. Claxton taught me from Charlestown Secondary School and I am happy that I got to meet up with him to further my skills. I am sure that after this course I will move even a step closer to the Plumbing Institute," he said.
Notwithstanding, young Weekes also had some advice for his peers and encouraged them to take advantage of the empowerment programmes offered by the Ministry of Social Development.
"What I want to say to other young people out there is instead of getting yourselves in trouble, I think everybody both male and female should look to plumbing as a good skill and I know for a fact it will help you in the years to come," he said.
Ms. Sylvia Dore of Brown Hill Village was one of three female participants who dared to venture into a male dominated field said she had taken up the challenge to attend in an effort to help her independence.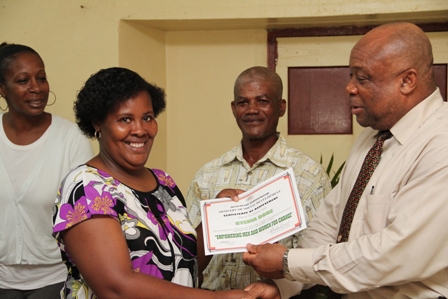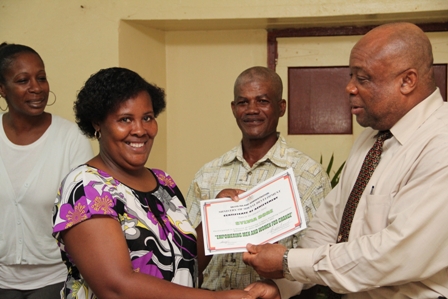 "I decided to join this class because sometimes [while] at home you have little basic plumbing work to do and you can do it for yourself and not depend on anybody. As a woman I decided to take on the course even though it is a male dominated job because there is nothing for men, everything is unisex.
"Women have to try and help themselves … we have to go out and do things for ourselves," she said.
To other women in the community she urged them to attend the Plumbing classes being offered while she lauded the efforts of the course tutor and the Nevis Island Administration (NIA). She also used the opportunity to voice her plans for other classes being offered by the Administration.
"I would advise other women to go to the next plumbing class. Mr. Claxton is great he did a good job and they should encourage others to go as well.
"I think the other classes being offered by the Ministry of Social Development I think is something that will interest me. I would like to say thanks to the Ministry of Social Transformation, they are doing a good job and I would like to tell them to continue doing the job they are doing," she said.
The event was chaired by Events Coordinator in the Ministry of Social Development Ms. Tonya Powell.