Inclement weather can't stop this: Minister Daniel celebrates with another Senior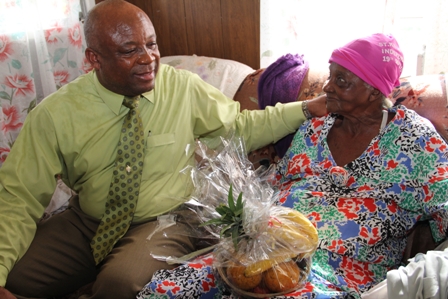 NIA-CHARLESTOWN NEVIS (December 14, 2011 —
Inclement weather did not stand in the way of Social Development Minister Hon. Hensley Daniel's personal touch, when he celebrated with Brown Hill senior Ms. Eulalie Brown on Tuesday December 13th 2011 in observance of her 85th Birthday.
In return, a visibly thankful Ms. Brown showered God's blessings to all who remembered her special day in particular Minister Daniel.
"Thank you and God bless you and God bless you all for coming to visit me and to wish me Happy Birthday and may the Lord continue to bless all of you, especially Mr. Daniel for he has done a lot of good things for me. Thank you all," she said as she accepted a fruit basket from the Social Development Minister.
Mr. Daniel meantime, underscored his Ministry's continued public acknowledgment of the senior's valued contributions including that of Ms. Brown to the development of Nevis and spoke of the assortment of programmes directed at their care and wellbeing
"We have developed a wide range of programmes for them and this one which involves the celebration of important milestone is very important to us. We think that you have made an important contribution to the development of Nevis even though I think some people forget that you were originally from St. Kitts.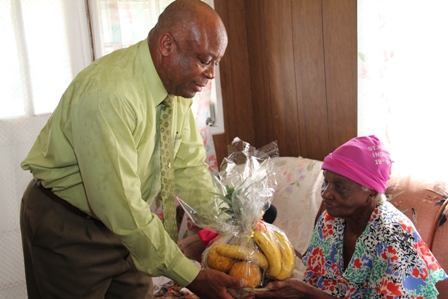 "For me it is important to send the message to the senior citizens in the country that we value your contribution, that we thank you for your contribution. It is important when you reach this stage in life, that you know that the younger people and in particular the Government appreciates your contribution," he said.
While the Social Development Minister also brought warm regards from the Premier of Nevis Hon. Joseph Parry and his Cabinet Colleagues, he told Ms. Brown he was hopeful she would be alive to celebrate many more birthdays.
He was of the view that the Birthday Girl was still needed and commented on her level of alertness. The Minister also thanked those who cared for her as he handed her gift of a fruit basket.
"I believe you have things to do still, you are still very alert and your mind is still very alert and you are still very lucid and I think you have wisdom to share with us and you have good reason to celebrate your 85th Birthday.
"I want to thank your care givers from the Social Development department, your children and grand children for continuing to care for you and this presentation of a fruit basket is that you might eat the fruits while you can," he said.