Bath Stream EC$30,000 renovation project ends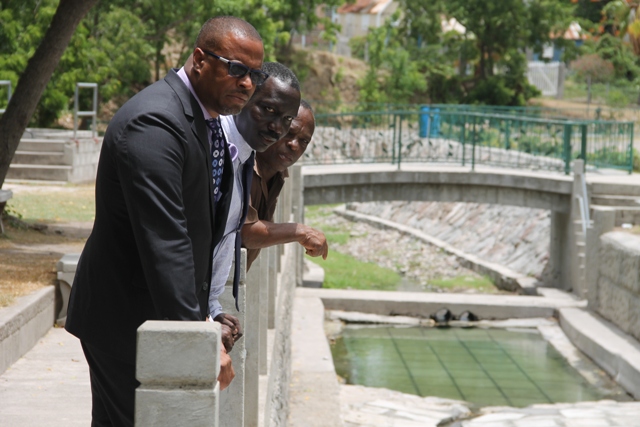 NIA CHARLESTOWN NEVIS (June 26, 2018) — Renovation work at the Bath Stream in Bath Village is completed. The EC$30,000 project funded by the Nevis Island Administration (NIA) through the Ministry of Tourism, commenced on June 04, 2018.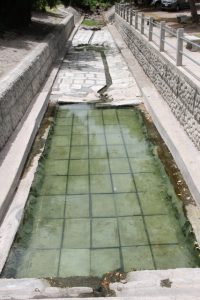 During a site visit on June 25, 2018, Hon. Mark Brantley, Premier of Nevis and Minister of Tourism acknowledged the Bath Stream's popularity and the NIA was pleased carry out systematic improvements at the facility for the benefit of the people of Nevis.
"What we do, we do it for our people. If visitors enjoy it then that's a bonus and the truth is that this Bath Stream is used by hundreds if not thousands here in Nevis on a regular basis.
"It is one of the most popular destinations for locals and tourists alike and so we were very happy we were able to do some improvements. These are improvements that we will continue to make over time," he said.
He reminded the public that because of the area in which the stream is situated, it is susceptible to the forces of nature particularly after heavy rainfall.
"We ask our people to be patient because clearly it is a force of nature that is what happens but here we have the pristine pools today due to the hard work.
"We have put these slabs in and this is intended to help to preserve what we have, enhance what we have but also to make it easier to clean it going forward," he said.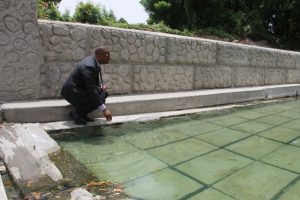 The Premier used the opportunity to thank Mr. John Hanley, Acting Permanent Secretary in the Ministry of Tourism who he described as the driving force behind the project, Mr. David Joseph and others in the Friends of Bath volunteer group and inmates of the Prison Farm in Maddens for their hard work. He also thanked his Cabinet colleagues for embracing the project.
Meantime, Mr. Hanley explained that the ministry realized the importance of replacing slabs and repairing the pools. They reached out to the volunteer group who had put in the original slabs and Mr. Joseph took on the challenge.
He added that over time they had been receiving complaints pf the state of the pools from the public.
The acting permanent secretary thanked Mr. Brantley for readily assisting with funding and providing support for the project.
Mr. Joseph confirmed that the Friends of Bath group had volunteered some years to get the job done initially and thanked all who assisted.
"I must say thanks to everyone who gave us some contribution and we must give a special thanks to the Ministry of Tourism for coming on board this time with us and helping us to make the Bath look much better.
"We appreciate the help of all who volunteered and we are looking forward to helping the upkeep of Bath with the help of the Ministry of Tourism," he said.