Cabinet Secretary gives Official information on Home-going service for Morton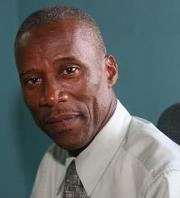 Charlestown,Nevis (Thursday, March 15, 2012)–
Cabinet Secretary to the Nevis Island Administration, Mr. Ashley Farrell, told the Department of Information on Thursday afternoon that the Home-going Service for the late Nevisian cricketer, Mr. Runako Morton, will take place at the Elquemedo Tonito Willett Park on Saturday, March 17, 2012 starting at 1pm. Mr. Farrell noted, however, that tributes to Runako will begin at 11:30am.
Farrell advised, "there will be limited parking inside the park for dignitaries and family members only, while members of the general public are asked to park at the adjacent Charlestown Secondary School grounds".
According to Mr. Farrell, the Morton family has requested that everyone in attendance wear bright and cheerful colors, "as this is a celebration of the life of Mr. Runako Morton". He also said that the family would like attendees who are planning on bringing floral tributes to the service to bring real flowers instead of artificial ones.
The Nevis Island Administration along with the Morton family are planning the official Open Funeral Service for Morton, who was a dashing right-handed batsman who played 15 test matches for the West Indies scoring 573 runs at an average of 22.03, and 56 ODI's scoring 1519 runs at an average of 33.75 with 2 centuries and 10 fifties. His international career spanned 8 years (2001 -2009).
Morton died in a traffic accident on Sunday, March 4, when the Nissan Tiida he was driving hit a utility pole on the Solomon Hochoy Highway in Chase Village in central Trinidad. He was on his way home to Princes Town, San Fernando, after representing his local club Queen's Park Cricket Club (Parkites) in a cricket match at the Queen's Park Oval.
Tributes have poured in from all corners of the globe from cricketers who have played with and against him, all attesting to his fierce competitive spirits which earned him such nicknames such as "Warrior" and "King". But Morton also had a softer side.



In delivering the eulogy at a memorial service on Tuesday (March 13) in Morton's adopted homeland Trinidad, former West Indies cricketer and now president of the West Indies Players' Association (WIPA), Mr. Dinanath Ramnarine said: "To all of us who knew him, his team-mates, his friends, Runako Morton was selfless. He might not have been the ideal person, but he loved his family and his friends as much as he loved his cricket. There are times when he failed us all but we never gave up on him. He had a caring side to his personality that helped to provide balance even when his life could have been better. He always tried, not always successfully, to be the best he could be and, to me, that is what really counts in the end. Circumstances might have sometimes backed him into a corner but his will to survive and succeed was his saving grace. I can say, in his case, that he was a friend, faithful and just to me".
The funeral service will be streamed live on Choice Community radio 105.3 FM and on Nevis Television (NTV) from 11:30am.