Nevis Government Cabinet pays tribute to island's fallen cricket icon Runako Morton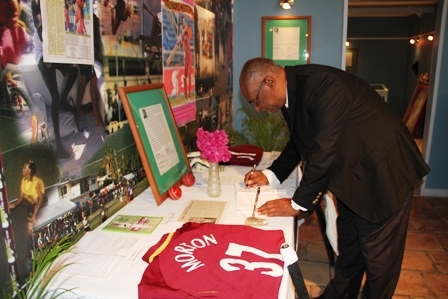 NIA CHARLESTOWN NEVIS (March 16, 2012) —
Members of the Nevis Island Administration Cabinet led by Premier Hon. Joseph Parry signed the condolence book posted at the Sports Museum in Charlestown on March 16, 2012 in memory of the island's sporting icon Runako Morton who passed away in a traffic accident in Trinidad on March 04, 2012.
The condolence book which was posed one day before a funeral service planned by the NIA and his family at the Elquemedo Tonito Willett Park from 11:30am on March 17, 2012.
In brief comments moments after he signed the book Mr. Parry told the Department of Information that Cabinet's presence there was only a part of what they were seeking to do as a government to highlight his achievements.
"What we are seeking to do as a government to highlight the heights he reached and to demonstrate to our people how you go about celebrating people who helped to promote Nevis and who are an example in terms of performance and excellence and so I am very proud this morning," he said.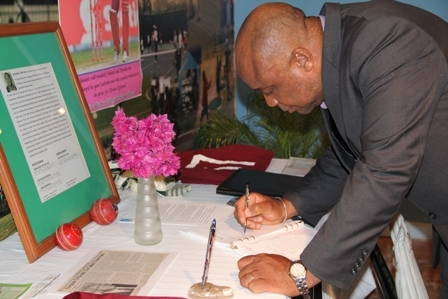 According to the Premier, thought Runako's passing was sad the tribute at the Sports Museum was an occasion to celebrate him.
"Solemn moment yes, his death is not what we wanted but at least it is an occasion when we can celebrate him, highlight him and bring to the attention of our people and create that awareness what some of these cricketers have done for their island and what they have achieved internationally," he said.
Deputy Premier and Minister of Youth and Sports on Nevis Hon. Hensley Daniel was also present, spoke of Runako's legacy in cricket.
"I think we have lost a tremendous talent and I just very much regret his passing. I think his bravado and daring that he promoted and practised is so good for cricket. I just wish that more of us engaged with him so that he would have been able to be even better with such tremendous talent," he said.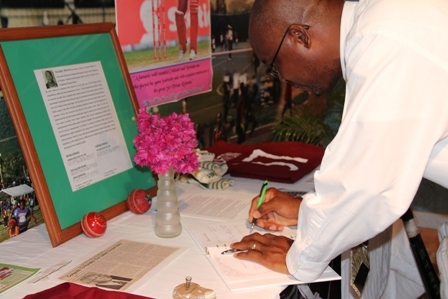 The Sports Minister also spoke to Runako's contribution to Nevis' tourism industry and the publicity he afforded his home island in his cricket career.
"Gone too soon but we recognise his tremendous contribution to cricket and to Nevis and as I have said before by Runako being in the West Indies team was more publicity given to Nevis than by any tourism agency or any marketing agency in the government because it had to be said every time that he was from the smallest place in the world and that gave us as Nevisians and opportunity to feel good and build confidence and so on.
"I think in the future the young players must take pattern from him from his tremendous confidence and his willingness to take on bowlers, batsmen everybody," he said.
Meantime, Cabinet Secretary Mr. Ashley Farrell invited the public to sign condolence books that would be available to the public today and tomorrow.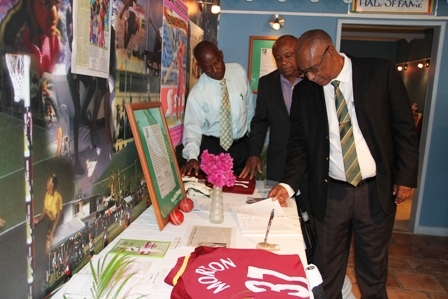 "The funeral for Runako will be tomorrow Saturday. Today Friday is the last day for members of the public to come in and sign the condolence book that has been placed here at the Sports Museum.
We suspect that not everybody knew about it so we would want persons during the course of the day to come out by 4 0'clock and sign the tribute here. Those who don't get to do it here, certainly you can come to the Park tomorrow and you will get a chance to sign the condolence book," he said.
Mr. Farrell said signing the condolence book was a fitting tribute to Runako which would later be presented to his family on Nevis.
"It is a fitting tribute to our sporting icon Runako Morton. He did well for us. He is the sixth Nevisian to play for the West Indies. Unfortunately as the second youngest he is also the first that we are bidding farewell to. May his soul rest in peace.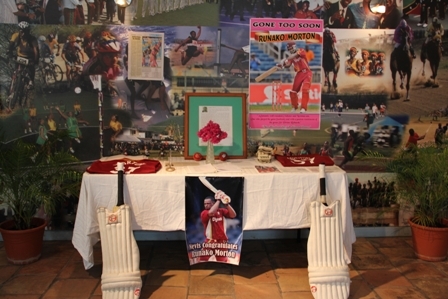 "Once the funeral is over, the condolence book which was at the Sports Museum as well as the condolence books which would be at the funeral would be handed over to the family here in Nevis," he said.