Premier Parry grants Runako Morton's family wish of burial in Nevis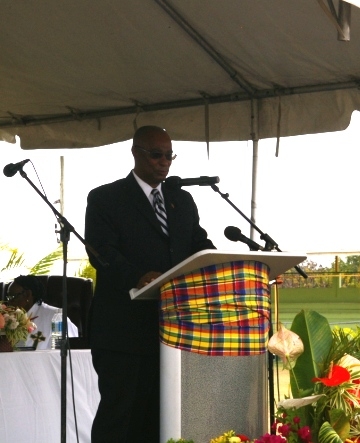 Charlestown, Nevis (Monday, March 19, 2012)–
Nevis Premier, the Hon. Joseph Parry has said that when Annette and Midge Morton, the mother and sister respectively of the late Nevis, Leeward Islands, Trinidad and West Indies cricketer Runako Morton, expressed their desire to have him buried in Nevis, he quickly acceded to their wish based on the late cricketer's contribution to the island.
"For me it was not just a matter of a burial, it was a matter of demonstrating to the people of Nevis, especially the young people of Nevis what men like Runako have achieved, and what we can do to honour them and the example that they set," said the Premier on Saturday, March 17, in a moving tribute to the fallen cricketer during the Home-going Service at the Elquemedo Willett Park in Charlestown.
"When Annette Morton and her daughter Midge along with Mr. Ashley Farrell came to see me a few days ago, and expressed the desire to have Runako buried on Nevis, I did not hesitate in telling them that the Government will do whatever it takes to get Runako's body to Nevis to be buried here," noted the Premier.
Runako Morton died on Sunday, March 4 in a road accident in Trinidad at the tender age of 33, as he was travelling home from a cricket match at the Queen's Park Oval, and was interred at the St. George's Anglican Church Cemetery late Saturday.
The Home-going Service was attended by Governor General His Excellency Sir Cuthbert Sebastian, Prime Minister the Rt. Hon Dr. Denzil Douglas, the Nevis Island Administration Cabinet, the Federal Attorney General Hon. Patrice Nisbett and Sports Minister Hon. Glen Philip, Chief Justice of the Eastern Caribbean Supreme Court Hugh Rawlins, (first cousin to Annette), and members of the Federal and Nevis Island Assembly opposition.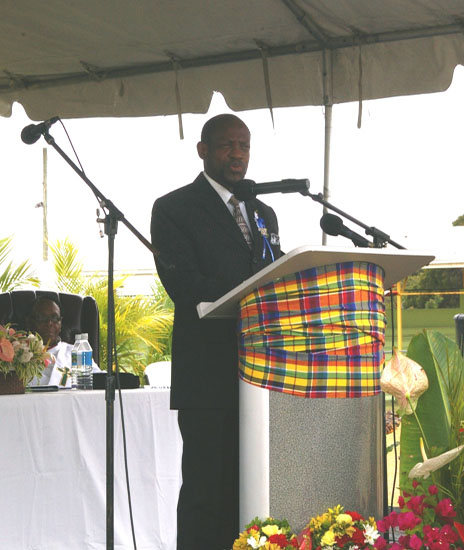 Scores of sportspeople and cricket administrators from around the region, and well-wishers also joined mourning family members from as far afield as the United Kingdom, the United States and the US and British Virgin Islands.
According to Premier Parry, Runako Morton was a humane, humble and self-motivated individual who was never fully understood by his admirers. He pointed out that the tribute given by the former West Indies cricket captain and Runako's close personal friend, Mr. Chris Gayle, taught people more about the fallen cricketer than they knew.
"I do believe because of this (Chris Gayle's tribute) we now could truly talk about Runako's humanity, his kindness, his sympathy and love for his fellow man, his ability in terms of team-work and his determination," said a vividly moved Premier. "I am so pleased for it, and I do hope when we leave here this afternoon, these are the memories we will take away."
Quoting from a tribute to Runako Morton by the president of the West Indies Players' Association, Mr Dinanath Ramnarine, during a memorial service for Runako held in Trinidad on Tuesday, March 13, Premier Parry observed that when players are doing well, they have the adoration of the crowd. But when they fail, the burden of their failure is made worse by the public anger that is sometimes directed at them (players).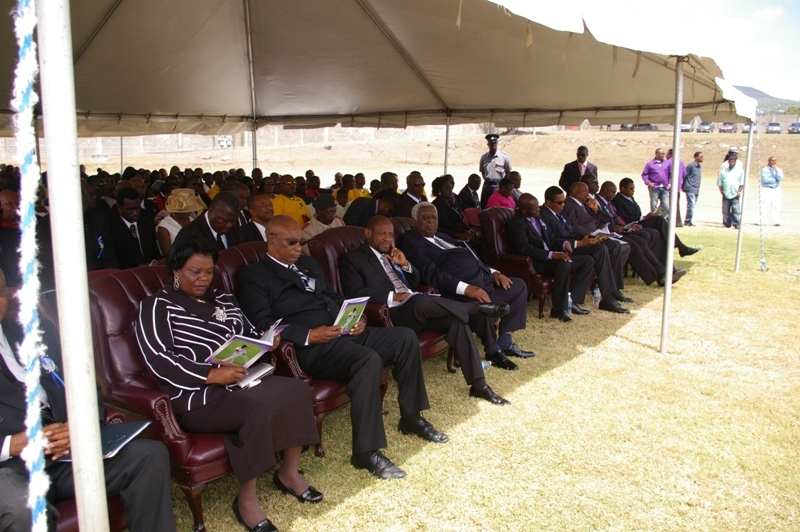 "In this little island of Nevis we proudly claim six West Indian test players," said the Premier. "What a joy it was in 1973 when in the month of March, Elquemedo Tonito Willett became the first Leeward Islander to play for the West Indies. That single act gave Nevisians a sense of pride and hope, coming from the shadows of the MV Christena disaster in August 1970".
"That dream of glory, to be able to breathe again, to believe, to achieve, became our unspoken motto," observed the Premier. "It drove political activity, the formation of political parties proudly proclaiming Nevis and Nevisians as equals in the Caribbean and the world, which sparked Culturama, our annual cultural festival, and the quest for knowledge, scholarships and the belief in self in everyone of us."
Following Elquemedo Willett's footsteps into the West Indies team as players from the island of Nevis were Derrick Parry, Keith Arthurton, Stuart Williams, Runako Morton and Kieron Powell. Carl Tuckett played in a solitary ODI in 1998.


Premier Parry, who served as president of the Nevis Cricket Association (NCA) and as a director of the West Indian Cricket Board (WICB) reminded the mourners that "the players are flesh and blood like everyone else. They reach for the stars, but they sometimes fail, just like everyone else". He challenged why there is no embrace and understanding when the players fail, which then leads to division and rejection.
"If we understand this, that they are human, and if we appreciate that these men even for a moment scale heights we can never attain, Runako would not have died in vain," observed the Premier. He further commented that when the wheels of personal pride swirled around him in the heat of battle, Runako Morton's brave heart did not contemplate surrender, but the grim reaper called.
"Yes, Runako is no longer with us," lamented Premier Parry. "Fly on, Runako, soar high in the sky, where bands of angels greet you, surround you and embrace you, and in the heavenly flight leads you to your final place of rest. I want to remind us to remember the mother and family of Runako with kindness in this hour of bereavement."