NIA joins with local Triathlon Federation for annual 2.5Star Mile swim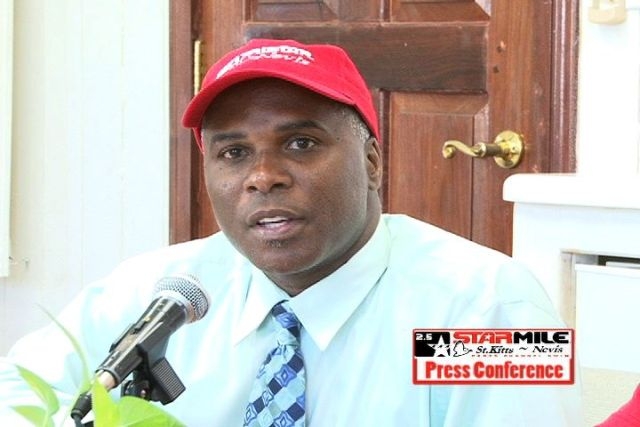 NIA CHARLESTOWN NEVIS (March 21, 2012) —
The Nevis Island Administration (NIA) through its Ministry of Sports has partnered with the St. Kitts Nevis Triathlon Federation for the 2.5 Star Mile swim between St. Kitts and Nevis on March 25, 2012.
Permanent Secretary Mr. Alsted Pemberton said at a recent press conference at the Nevis Tourism Authority's conference room, the Ministry was pleased to partner with the Association, a collaboration which began in 2011.
"The Nevis Island Administration is putting a small but significant contribution of approximately EC$10,000 to this event to ensure its success… in previous years the event would have ended up in St. Kitts. So this year the 10th anniversary we wanted to make it a bigger event for the people of Nevis since it is the people of Nevis who is organising this event so we are bringing it home to the people of Nevis.
"We were happy in the Nevis Island Administration to ensure that activity comes off and comes off with a success so that the people of Nevis will definitely see what normally happens at this exciting day so we are pleased and happy to partner with the Triathlon Association," he said.
During the past nine years, the event would commence from a beach on Nevis and culminate on another in St. Kitts. Mr. Pemberton used the opportunity to encourage Nevisians to support the event and to help make the 2012 contest a success.
"I want to take this opportunity to encourage the general public to come on over to Oualie and support the Nevis Triathlon Association, as they continue to promote not only triathlon and swimming and cycling but to promote the whole island of Nevis and the Federation of St. Kitts and Nevis in general," he said.
The Permanent Secretary also thanked the President of the St. Kitts Nevis Triathlon Federation Mr. Winston Crooke and General Secretary Mr. Greg Phillip for their hard work staging the event not only for the benefit of the Association but for the people of Nevis as well.
According to Mr. Pemberton, the NIA had made provisions for its contribution to the organisation in its Budget last December to ensure that the event was bigger and better in 2012.
He further noted that when the triathlon Association approached the Ministry of Sports as the Tri Star came to Nevis they gave assistance financially and otherwise since it saw the event not only as a sporting event but as a sports tourism one which would also bring benefit to the entire population of Nevis because of its spin of benefits.