Cotton Ground Villager "Aunty Baby" heartened by birthday visit from Premier Parry and his Deputy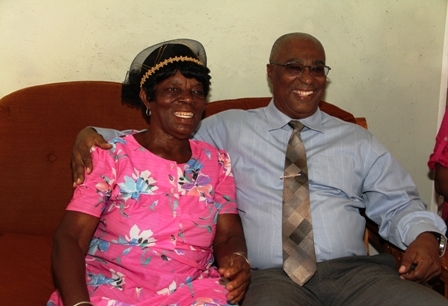 NIA CHARLESTOWN NEVIS (March 14, 2012) —
Mrs. Millicent Sutton more commonly known as "Aunty Baby" got the surprise of her life on March 8th, 2012 when Premier of Nevis Hon. Joseph Parry and his Deputy and Minister of Social Development Hon. Hensley Daniel, accompanied by members of the Social Services Department paid her an unexpected visit at her Cotton Ground home in celebration of her 80th birthday just days before.
During the visit she was presented with a fruit basket and Certificate of Recognition from Minister Daniel, who is also responsible for the welfare of the island's senior citizens. In response Aunty Baby thanked God and everyone around her who had contributed to her longevity.
"I thank everybody, most [of all] I thank God. De knock 'bout I get and de long life and de hard work. People tell you that I work hard and I thank him [God] for the many kindness too both me and me child and me grand…I thank you and I thank God. I don't know how much more I could live but thank God for the past. Thank him for the neighbour here…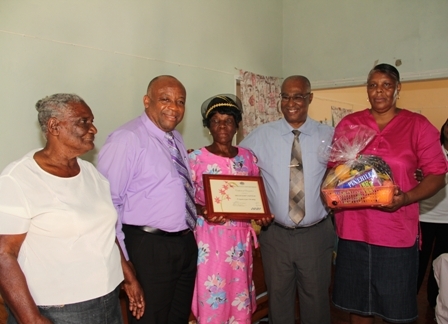 "I thank everybody," she said in a burst of emotion and teary eyed, "great is thy faithfulness. Oh all that I need is what his hand has provided. Great is his faithfulness and thank everybody. Children that I see born and raise look they here to take me picture, well, well, well, well. I got to tell them who they be more than they could tell me when I watch she face. Thank you Jesus thank you for the gathering."
Mr. Parry who is also the area representative in brief remarks told the celebrant that he was pleased to be among those celebrating her milestone, though it was a few days ago on March 1st.
"We are very happy to be here in Cotton Ground this afternoon to celebrate your 80th birthday. We are a few days late but that does not matter. We know that you have worked very hard over these past 80 years both here in Cotton Ground and the Gingerland area.
"We know you have many friends and a large family and we know your daughter who is in the [United] States right now would have been happy to be here and that little grandson of yours I would love to see him some day … I hope that with all the love that you have and all the neighbours that you have, [they] would take care of you and that you live many, many more years. Congratulations and may God bless you," he said having warmly embraced her at the start of the visit.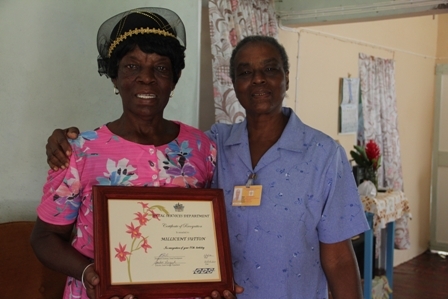 Minister Daniel in his remarks noted that Mrs. Sutton had migrated internally since she was born in Cotton Ground but got married in Gingerland and later returned to Cotton Ground.
He said they had simply come to show appreciation for her contribution to the development of Nevis.
"As we can see she is as lucid as ever. Her brain is sharp her memory is fully at work so she remembers all of the friends and families over the years. For us in the Ministry of Social Development, we have simply come to show appreciation and to say to the senior citizens that we thank them for their contribution to the society.
"We don't want them to leave thinking that their contribution was not valued that is why we have the Home Help Care, the Recreational Programme and the celebration of the various milestones. So Mrs. Sutton we have brought a certificate for you from the Ministry which reads: "Social Services Department Certificate of Recognition awarded to Millicent Sutton in recognition of your 80th birthday," he said.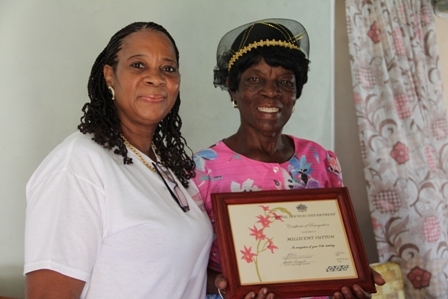 While he presented the fruit basket, Mr. Daniel said it was a symbol and an indication that she could enjoy the fruits of her labour since she had worked hard in her life.
"We say to you, your contribution to Nevis is valued and having lived in more than one of the parishes. I am sure that people in Gingerland remember you and people in Cotton Ground all over. That is why I say you are so sharp, I am sure that we are going to be here many, many more years to celebrate with you," he said.
The brief but significant celebration was chaired by Social services officer Mrs. Jeanette Herbert. Also present were Director of Senior Citizens Division in the Department of Social Services Mrs. Garcia Hendrickson and Aunty Baby's neighbours Merle and caretaker Portia.