Caribbean Development Bank President pays courtesy call on Premier of Nevis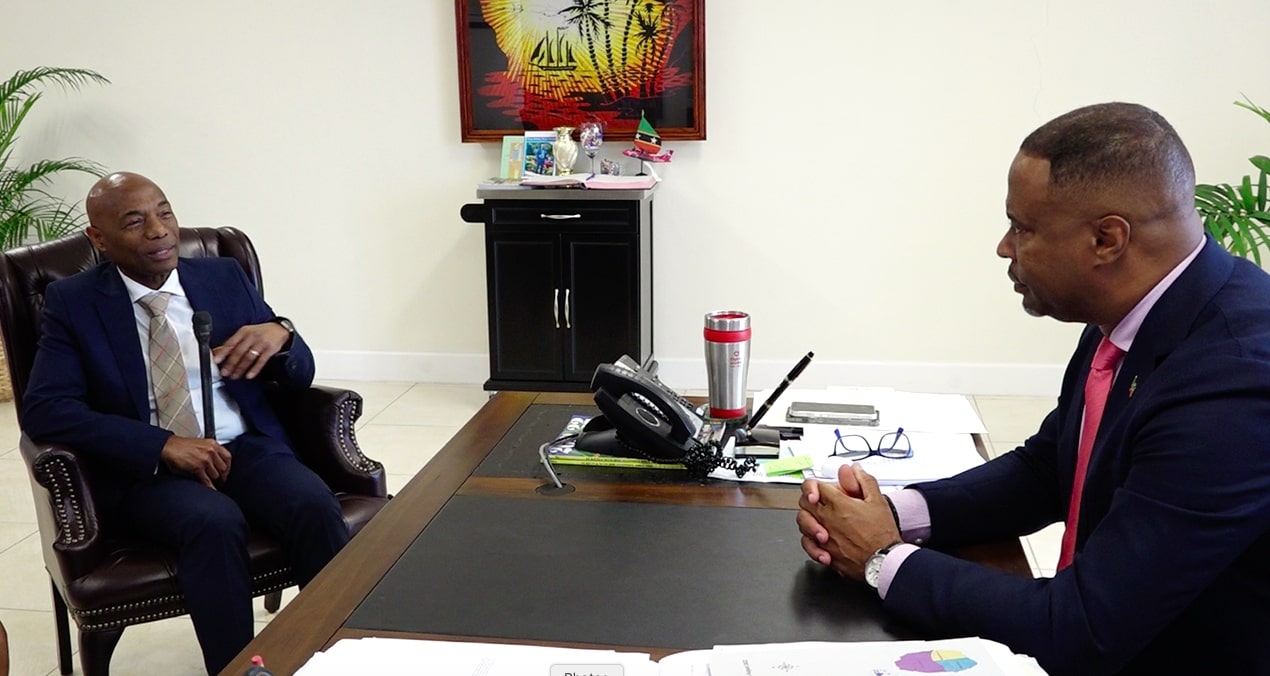 NIA CHARLESTOWN NEVIS (February 04, 2023)- President of the Caribbean Development Bank (CDB), Dr. Hyginus Leon, paid a courtesy call on Premier of Nevis, Hon. Mark Brantley at his Pinney's Estate office on Friday, February 03, 2023.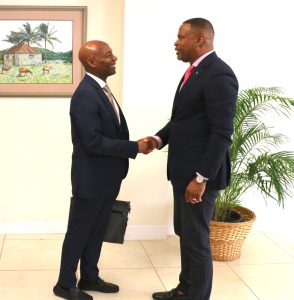 Premier Brantley, Minister of Energy in the Nevis Island Administration (NIA), was pleased to welcome Dr. Leon to the island. The CDB president was accompanied by his Senior Advisor, Andrea Power.
"We are delighted to have you here. The CDB has done very good work in St. Kitts and Nevis, and more specifically on the island of Nevis. I can think of a major water project for example that we embarked on, and more recently we've been talking about the CDB being involved in our geothermal exploration.
"I hope that while you are here on business, I know it's a short visit, that you have the opportunity to enjoy some of the hospitality which we are quite famous for," he said.
Dr. Leon said he was looking forward to having engaging conversation with Premier Brantley as the CDB is very excited about the prospects for Nevis, and the Federation generally, particularly in the geothermal space.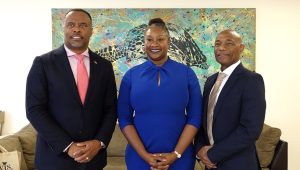 "As you know, renewable energy is one of the ways in which we will contribute in a very big way to the whole climate change action that is required to advance our economies in a very planet-friendly way.
"So Nevis leading the charge in terms of geothermal development and of course the benefits that we have, both in terms of providing energy but equally horizontally into what we would think of as green industries. It's clearly a way of the future and we are very excited at the prospect and we look forward to cooperating very much with the Administration in developing this going forward," he said.
Ahead of their discussion Premier Brantley presented Dr. Leon with a Nevis Naturally gift bag with locally made products, and CDB President gifted the Premier with a token of appreciation on behalf of the institution.
The Caribbean Development Bank recently approved US$17 million in funding for the Nevis geothermal project. The production drilling phase is set to begin in June 2023, and is anticipated to last six months. Once that is successful, the NIA will begin the second phase, constructing a geothermal power plant with a capacity of 10 megawatts.