Caribbean has urgent need for continued support from world leaders in renewable energy, says Nevis Minister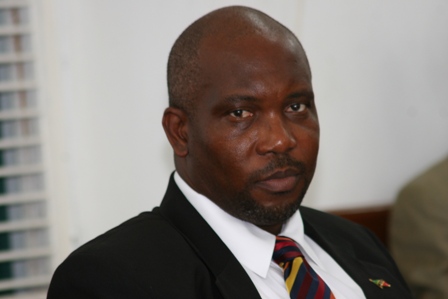 Minister responsible for Natural Resources and Public Utilities on Nevis Hon. Carlisle Powell (File photo)
CHARLESTOWN NEVIS (May 12, 2010) — Natural Resources and Public Utilities Minister in the Nevis Island Administration (NIA) Hon. Carlisle Powell, said there was urgent need for continued support from countries like Germany, who have become leaders in wind energy.
The comment came while the Nevis Minister made a presentation in Berlin recently before political, business, scientific and civil society representatives from Latin America and the Caribbean (LAC) and the European Union (EU), to discuss the challenges and perspectives associated with closer technological cooperation, in the field of renewable energy and energy efficiency.
"In the Caribbean, we have been talking a good talk about wind energy for the last 20 years and only Jamaica and Nevis have made any real advances. Yet wind is widely used in Europe and Latin America. As I flew into Berlin, I was greeted by the sight of several wind turbines making use of the free wind. In the Caribbean, we have so much wind that between June and October, we call them hurricanes.
"Three hundred years ago, wind powered the factories that ground the cane to produce sugar. Three hundred years later, we are still discussing whether wind is a good source of energy. We urgently need continued support from countries like Germany where you have become leaders in wind energy. Help us to develop wind studies, Power Purchase Agreements, contracts, evaluation of data, legislation and tariffs," he said while he acknowledged the assistance Nevis had received from Caribbean Renewable Energy Development Programme (CREDP) / GTZ.
With regard to geothermal energy development, Mr. Powell pointed to a World Bank study on the Caribbean Interconnection which he said made compelling reading. The Natural Resource Minister described the proposed project as possibly the most important for small island states such of the region.
He explained that all the islands had their own generation plant or plants that were expensive to purchase and maintain and used the example of Nevis to show the benefits of the project.
"Imagine one Caribbean interconnected with renewable energy produced cheaply in one state (Nevis) transported to high demand areas. In my small island of Nevis, at peak we use only 9MW of power. It is estimated that we may have as much as 900MW of geothermal power that can be harnessed. That is enough to export to the neighbouring islands so all of us can enjoy cheaper energy, lower our carbon foot print, reduce our drain on foreign exchange and have extra funds from the avoided costs for other government programmes," he said.
According to Mr. Powell, Nevis had been fortunate to receive technical support for its geothermal project development from the Organisation of American States (OAS), the Caribbean Community (CARICOM) and the government and people of Iceland. The Icelandic support had been extended to include evaluation and monitoring during the production drilling phase which he said was of critical importance to the Nevis Government, to ensure that the island's resources were properly developed in a sustainable way.
In the area of education, Mr. Powell said educating the Caribbean's people on the benefits of renewable energy was of outmost importance. He expressed that programmes had to be developed to engage them from primary to retirement homes.
"While we look to Europe, Latin America and the rest of the world to help us in the Caribbean to develop educational programmes, we must make every effort to romanticise renewable energy. Two engineers from Nevis completed short attachments at La Geo geothermal plant in El Salvador. One of our engineers is currently at the UN University in Iceland. The Faculty of Pure and Applied Science at the University of the West Indies is starting a Graduate programme in Earth Sciences.
"Let's commit to do more. This more must include providing educational material to the entire population to show the benefits of renewable energy. It must include involving our people in projects where they will save money; such as the use of solar water heaters," he said.
Mr. Powell challenged the small island states leaders to become more proactive in the renewable energy thrust.
"Unfortunately, we only seem prepared to act when the price of oil rises; when the price falls our search to find alternate cheap sources of energy also falls. Let us remain focused on the urgent need to reduce our dependence on foreign oil," he said.