Nevis Educators commended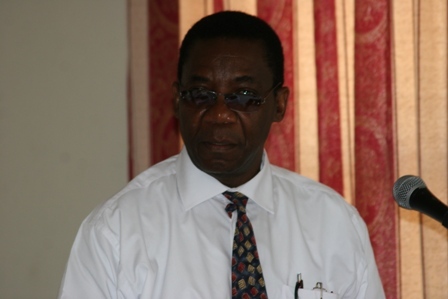 Chief Education Officer in St. Kitts and Nevis Dr. Patrick Welcome
CHARLESTOWN NEVIS (May 11, 2010) — Nevis educators received commendations for their recent successes with students on the island from Chief Education Officer in St. Kitts and Nevis Dr. Patrick Welcome at a joint principals workshop hosted by the St. Kitts Principals Association in Charlestown on Friday.
He made specific reference to the high literacy rate on the island and the academic success at the secondary schools which he attributed to the hard work of teachers and their dedication to the profession.
"I am happy to say that the assessment in Nevis shows that we are about 86 percent or so at literacy level rate and I am happy because I believe you achieve this because of the hard working teachers that we have in the schools. I want to commend Nevis especially because the statistics are showing that the literacy rate is about 95 percent and so that is another reason why we are happy to be here, so we can learn from you to see what you are doing extra to see how you do it, to see how you behave when you are doing it, so we can learn and take these …back home with us.
"I want to commend secondly the schools for their achievements academically. You recognise that in Nevis for example they have been given great awards for CXC and surely when I go to meetings, I am quite happy to say St. Kitts and Nevis but I want to challenge all of us here this morning that we have a duty, a responsibility," he said.
Dr. Welcome also commended the principles in the Federation for the reading programmes they had conducted over the years.
Meantime, the Education Official used the opportunity to remind teachers of the critical nature of their profession and the far reaching effects they had on the nation's young minds.
"One educator said that when she recognises that she can destroy an entire nation as a teacher she became frightened. So this is a critical profession you are in, moulding the minds of our youth of St. Kitts and Nevis is not an easy job, it's not an easy job but we are depending on teachers to do it and this is a good reason why we must meet often and collaborate," he said.
Dr. Welcome also reminded them that they would be held accountable and should take their responsibility of guidance seriously.
"I want teachers to take their responsibility seriously. I want teachers to be responsible for the objectives that are set for their school, I want principals to understand that you have an institution and if it fails you are responsible and if it is successful you are responsible. People must stand up and face their responsibility when it comes to the issue of moulding our minds.
"I walk across the Police Station every day to go to work and I see all kinds of people waiting to say something to their family in prison and I wander if teachers should pass by and maybe recognise some of their students that they have denied that kind of guidance. It's their responsibility that we have to take charge of," he said.
He also urged the teachers to be gracious and non judgemental as stated among several principles set out in the White Paper, a 10 year education policy document for St. Kitts and Nevis from the Federal Ministry of Education.
"We have to be gracious and by that we should judge people, meaning students too by their best moments and qualities and their capacity and potential to be the best human beings they can be.
"We must give those students a second chance and maybe a third and fourth chance if we have too. Don't write them off, we can't afford to write them off for an incident, we must be gracious. We said to principals in the past that when you do clinical supervision you should not write off any teaches. We have extended that particular principle. Don't write off anybody, judge them at their best moments," he said.